Improve Productivity by Adding Right Click Context Menu to Firefox Downloads
Many applications use the Right Click context menu to integrate their softwares into Windows Explorer. Right Click menu provides quick access to useful functions of  those softwares. But, this very useful right click menu is restricted to Windows Explorer only and  in this age of internet integrated digital life, there is strong need to integrate this Right click Content Menu into web browsers, using which we can save time and improve productivity.
Consider my case, I download a lot and there will be rar and zip files in my Firefox's Downloads window. In order to use those downloaded items, I need to decompress them first. And my Firefox's Downloads Right click menu is different from the Windows Explorer's and to decompress each item, first I have to open Windows Explorer, browse to that folder and then decompress it. Doing this for each download is a daunting task. Instead, it'd be better if I can integrate the Right Click Context menu of Windows Explorer into Firefox so that I can extract those files instantly from Firefox itself. As soon as I got this thought I went to Firefox addons page and searched for such addon and surprisingly I found only 1 addon which does this, it's called Downloads Context Menu.
By using Downloads Context Menu addon in Firefox, we can integrate Windows Explorer Right Click menu into the downloads window of Firefox. We can access the right click context menu of Windows explorer by right clicking on that download and then hover over File.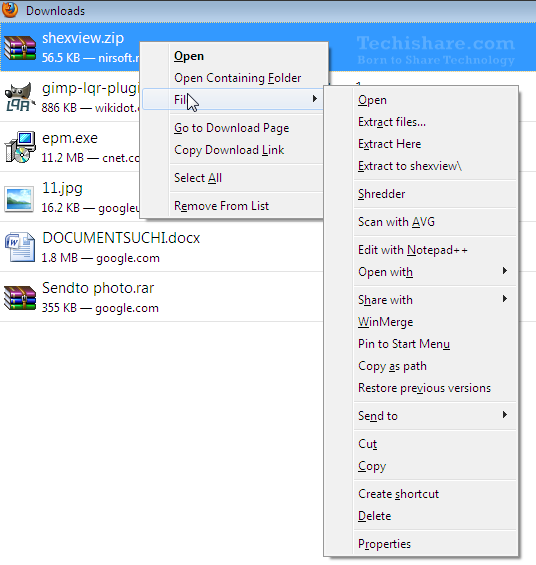 With this addon we can accomplish many tasks very quickly. Like
Extract and Compress downloaded files instantly. No need to open Windows Explorer again and we can do that from Firefox itself, using Winrar's context menu items.
Send downloaded files to USB drives and other folders from Firefox itself, using the Send to menu.
Scan the downloaded file with Antivirus etc
In fact you can do everything which can be done with Right Click context menu without opening Windows Explorer. So, from now on no need to leave your browsing session. With this Right Click Context menu integration we can do lot of things from Firefox itself. Moreover it saves time, it reduces unnecessary clicks etc. Importantly you can do things much better and faster. So, if you are a firefox user, then install Downloads Context Menu addon and start saving time.