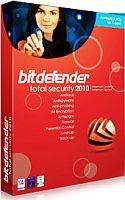 Bitdefender has released their latest line of products recently. Before letting you know how to get Bitdefender Total Security 2010 free for six months, I want to share my views about their latest products. Bitdefender products provide solid security and protect against many evolving threats. But Bitdefender also gained a negative reputation as a resource hog and a false positive detector.
What's new :
Improved speeds in scan times and detection times.

The new products uses new technology which avoids scanning of files which are already marked safe and this results in much faster scans. (Products like Symantec are already using this feature!)
All new user interface for easy access.

Improved Parental Controls and Intrusion detection.
Positives :
Protection against every type of malware.
Real-time web protection by scanning all web, email and Instant messaging.
Free help until your license key is active.
Negatives :
The installer size is huge and are as follows :- Total Security : 146 MB, Internet Security : 114 MB, Antivirus : 107 MB. Also eats up lot of diskspace.
Poor firewall, parental controls are not much effective.
Many false-positives.
How to get it free for 7 months :
1. Browse this site : http://www.bitdefender.de/site/Promotions/pcgots2009 by using any of the below proxy services.
1. http://www.awxcnx.de/tor-i2p-proxy
2. http://www.forexunblock.info/
3. http://unblockbypass.com/
4. http://www.free-web-proxy.de
5. http://www.browsefreely.com
6. http://www.myspider.de/anonym/
Only German IP is allowed to access that Bitdefender promo site. If you live Germany then you can access it directly, people from other countries have to use German IP's or proxy servers like the above mentioned proxy services to access the promotion page.
2. Fill the form with appropriate data. (Use the image below for translation in English)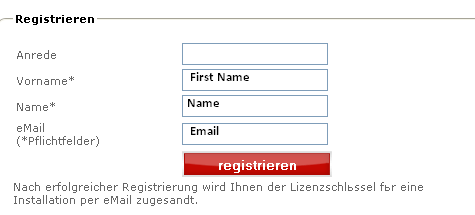 3. Bitdefender Total Security license key will be mailed to you instantly. The license key is for Total Security 2009, but we can also use it for the new Total Security 2010.
4. To get maximum benefit from the promo, first use the 30 days trial completely and then use license key to extend your trial up to six months. In this way you can use Bitdefender Total Security 2010 free for 7 months.