Wondershare LiveBoot 2012 is a professional rescue disk which has over 40 utilities that helps you rescue your system in times of disaster. For a limited period of time, Wondershare is giving away LiveBoot 2012 for free which can be grabbed from this link. Once, you fill in the form you will receive an email from Wondershare which has the download link and license details. So, download and run the 355 KB installer, it downloads another 314 MB file to finish the installation.
Once the installation is finished, you will be greeted with an in-detailed Wondershare LiveBoot Wizard using which you can create bootable CD and bootable USB drive.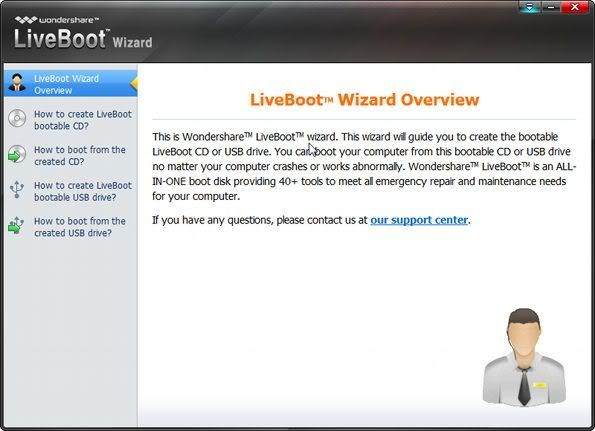 If the default IMG burn doesn't work then you can burn the bootable CD using your favorite CD burner. Burn this ISO image located at the following path
C:\Program Files\Wondershare\LiveBoot 2012\Wondershare LiveBoot.iso
In order to test LiveBoot 2012, I started virtual machine by booting it from LiveBoot's ISO image.
If you are familiar with Linux live CD's then booting into LiveBoot won't be a problem. If you don't know how to boot from a Live/Bootable CD, I recommend you to go through the LiveBoot wizard once again and read the instructions.
Once Wondershare LiveBoot 2012 starts, you can see that the interface is very much similar to that of Windows 7, which is a familiar face to all of us.
As I said earlier that Wondershare LiveBoot is a collection of utilities and fixes. The utilities are neatly organized into tabs. If you click on Windows Recovery tab, you can find a number of fixes to common problems which make Windows unbootable. For each problem, symptoms were also given so that it will be easy for the user to know which problem he is having and which solution to use.
The next tab is Data Recovery tab which is nothing but the standalone Wondershare Data Recovery software. It is capable of retrieving data from deleted, formatted, and inaccessible data from PC, Memory cards, USB drives and other storage media.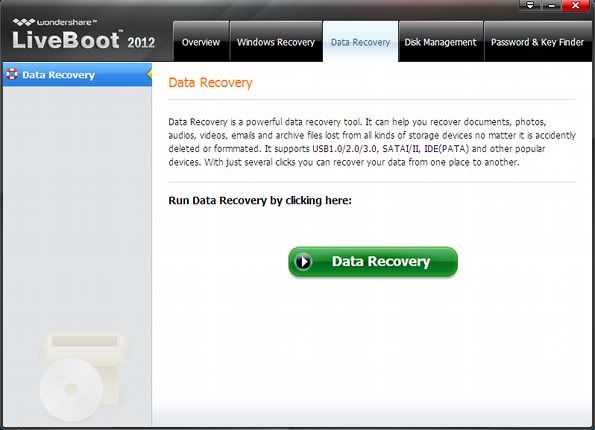 Under Disk Management tab, we can find set of tools which helps you clone hard disks and partitions, Wipe data, Manage partitions and Backup and Restore drives and partitions.
The last tab is Password & Key Finder, which helps you reset the administrative password of Windows incase you forgot it. It even retrieves the serial code of Windows and Office suite.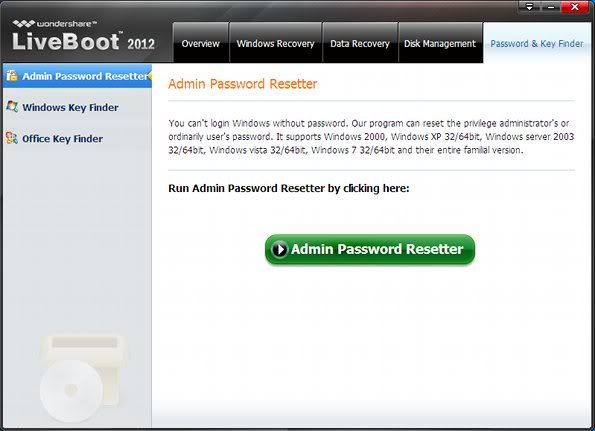 Overall, Wondershare LiveBoot 2012 looks like a solid collection of very useful utilities which help you repair Windows. Other tools like, Backup and recovery, partition manager, key finder etc makes LiveBoot 2012 a must-have! So, grab Wondershare LiveBoot 2012 now.
Get Wondershare LiveBoot 2012 for free from this link : www.wondershare.com/topic/giveaway-liveboot2012.html