Get Paragon Virtualization Manager 12 Compact For Free
Virtual systems are very useful especially for those who test experimental builds (Alpha, Beta etc) of new softwares, and want to taste the latest technology and get familiar with it before everybody gets hands on it. There are many virtualization softwares available for Windows users, ranging from sharewares to freewares. Once such shareware software is Paragon Virtualization Manager.

Paragon Virtualization Manager lets you virtualize your PC in just one click. You can convert your whole PC into virtual disk (compatible with Oracle Virtual Box 4; Microsoft Virtual PC; VMware™ Workstation; VMware™ Fusion) without losing any customizations you made. For home users, it comes in two editions, Compact & Professional. For a limited time, Paragon is giving away the Compact version for free. Before getting into more details on how to get this freebie, let us quickly look at the features of this product.
Features of Paragon Virtualization Manager 12 Compact :
P2V Migration – Migrate a physical system to a virtual machine or convert a backup image to a virtual disk. Migrate from 2TB+ physical drive to smaller virtual drive (it's very helpful as most of hypervisors do not support 2TB+ virtual drives).
P2V Adjust – Recover the OS startup ability after an unsuccessful virtualization by a 3rd party tool.
Create VD – Create a virtual disk with a simple wizard.
Migration without rebooting Windows – Hot processing of locked (in-use) hard disks lets you migrate a computer without rebooting and interrupting Windows.
Full Windows OS Support – Guaranteed support for any Windows operating system since Win2K (excluding server editions).
Smart Driver Injector – Makes the process of adding new drivers smooth and easy.
Paragon Virtualization Manager Promotion :
For a limited Paragon Software Group is giving away their Virtualization Manager 12 Compact product for free to their facebook fans. So, just follow the below promo link, become fan of their Facebook page if you're not, and then get your free copy.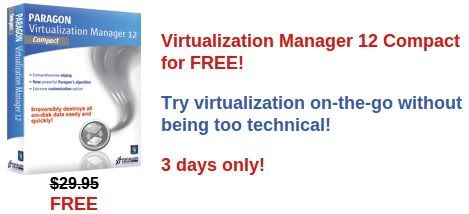 Promo Link : http://www.facebook.com/pages/Paragon-Software-Group/116815481437?sk=app_401240816566747
Offer is valid till April 20.