Get Screen Calipers Serial Number for Free [BitsDuJour Promo]
BitsDuJour is a popular website where you can buy many softwares at very cheap price. But, now you can get a software at 100% discount on BitsDuJour! Yes, BitdDuJour is giving away free serial numbers of Screen Calipers software (MAC and Windows) for those who like their Facebook page.
Developer's description about Screen Calipers :
The Screen Calipers are the unique on-screen measurement tool, that let you measure anything on your computer screen with ultimate accuracy. The Screen Calipers floats above any other application so you can measure anything on your screen:

Web Designers: measure pixel perfect HTML layouts
Graphic Designers: measure photos and illustrations
Engineers: perfect for CAD, measure blueprints, plans and architectural drawings
Education: teach students physics, biology or maths
Medicine: measure x-rays or EKG, ECG printouts
Industry: use with any manufacturing system
Microscopy: connect your microscope and measure magnified items
Cartography: use with any mapping software
And more: there is no limit to the uses
In order to get Screen Calipers software for free, go to BitsDuJour Facebook page and like it. After you like it, the serial number will be given to you.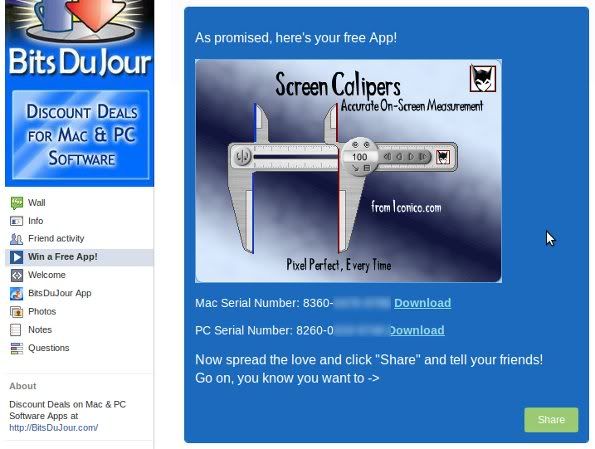 Now download, Screen Calipers using the link below and activate it with the serial number which you received.
Download : Screen Calipers