Optimize PC Performance With AppBooster [Plus Giveaway]
When it comes to tweak some windows functions in order to increase its speed by managing RAM and CPU, professionals will be able to do this but a less experienced and novice will prefer to use a third party software that upon installation on the pc will give an easy interface to start this kind of operation. A speedy search over the internet  yield some applications that will guide the user through the setting of a profile to optimize the use of the pc by giving some boosting; This is handy while using power hungry applications such as Adobe Photoshop, Media converting software, Online or desktop games (More FPS). This is done by shutting down some unwanted entries therefore liberating RAM and offering more power to CPU, this will be easier to see while monitoring FPS of games.
Now lets see how AppBooster can serve this purpose. This software is available in a freeware and a shareware version.  On the first run of AppBooster, the wizard will ask to create a new profile, so click the icon of new profile, this will open a new window to carry on the necessary tweaks.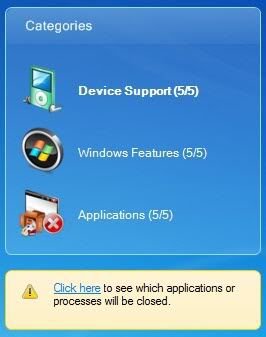 There are 3 categories :
Device Support : Involves the support of mobile device, Scanners and Digital Cameras, Bluetooth, Printer and Tablets.
Windows Features: Disable Multimedia, Setting to full powerprofile, Disable Windows Theming, Disable scheduled tasks, Disable other non necessary windows functions,
Applications:  Close Messenger, Close Browser, Close Office Applications, Close Automatic Updates, Close unneeded Items and Autostart Programs.
Beneath the categories tab there are two further icons, the first one can show which process will be shut down momentary and second is for excluding some process from being terminated. This is aimed for better performance that can be maintained for smooth functioning of any applications during the game mode for instance.
To follow the profile creating wizard its easy and as such opportunity is given to add or exclude process from the termination process. So just follow the routine and give a name for the new profile. There is also an opportunity to simulate the profile (Booster Profiles) execution so that the user can estimate the situation and if its not as expected then the user can go back and tweak the profile. At the end once everything is set on optimum level then the profile should be saved and once activating button is clicked then this profile will be executed. One of the advantage of the pro version is the ability in creating multiple profiles that can be saved and be used in conjunction of the user aim in gaining performance. The deactivating button (after exiting the "Booster Mode") will work as intended and the user will gain the initial unmodified windows.
The amount of RAM which could be freed by AppBooster depends on how many processes and services are running/installed on your computer and which are not needed. Getting 100 MB more free RAM available on a netbook with 512 MB RAM is more effective than getting 200 MB more free memory on a 8 GB machine.

AppBooster Features :
EditByBSEditor: Quits all unneeded background processes and services making more RAM and CPU power
EditByBSEditor: You decide what functions you don't need during the Booster Mode is active. Ability to switch between different scenarios.
EditByBSEditor: You decide what functions you don't need during the Booster Mode is active.  Helpful if are missing in the database.
Booster Modes: According to a database applications that are not neded will be terminated  reinitialized after the Booster Mode has been stopped.
Boost & Reset:  Automatically  restart  previously running applications without reboot.
Booster Shortcuts: Create shortcuts for applications which should be boosted
The pro version supports unlimited profiles, booster shortcuts and allows including own processes into Booster Profiles thus the Pro version will give more power. Appbooster can find its place on laptop thus will help preserving battery life and a cpu boost will be delivered in order to speed up application loading. Optimize the windows shutdown and give the shutdown speed a huge boost. So download the free version from the below link and experience more power.
Download : AppBooster
Giveaway :
Yet another giveaway for TechIShare readers and this time we have 15 AppBooster Pro licenses ready to be given away. So, interested people should
Leave a comment below, regarding why they need this software.
Subscribe to TechIShare RSS Feed. Click here to Subscribe.
Share this post through any social networking site such as Twitter, FaceBook etc [Optional/Not Compulsory]
Winners will be declared on 10th April.