Panda Security, is a reputed company in security industry and they provide variety of services including professional and free security tools. Panda has released their 2012 product line recently and they have been generous to their fans by giving Panda Antivirus Pro free for 6 months on facebook. Just few days back they announced that this is the last week for that promotion. From next week, we won't be having this 6 months promo. But, don't worry I've found another promotion of Panda with which you can get both Panda Internet Security 2012 and Panda Antivirus Pro 2012 free for 6 months.
You can check out more details about Panda Internet Security 2012 and Panda Antivirus Pro 2012 on their official website. Let us quickly see how to activate Panda Internet Security 2012 and Antivirus Pro 2012 free for 6 months. In this article I'll be activating Panda Internet Security 2012 only, hoping that these are the same steps to activate Panda Antivirus Pro 2012 too.
First go to the promotion page, by clicking here.
Below the button which says "Descargar Gratis" you'll find the activation codes of both Antivirus Pro 2012 and Internet Security 2012. With these activation codes, you can activate them free for 6 months.
Now, download the corresponding product from the official downloads page and then install it. You need a restart in order to finish the installation. So, restart the PC.
After restarting, open the main interface by double clicking Panda's systray icon. Panda will now ask you to activate the product, either trial version or full version. Choose Activate My Pay Version now, and then copy and paste the activation code from the promo page (See Step 1).
Now, click on Next and follow the instructions to finish the activation process successfully.
The product will now be activated for 6 months (180 days actually).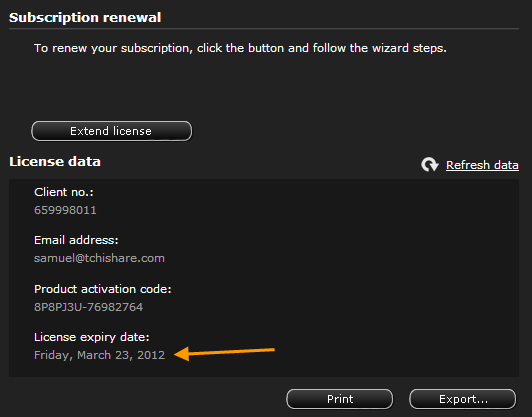 You can check it from the interface or from the License Details under Settings.