Few weeks ago we've shared about SideWinder with you and I hope you liked it. For those, who don't know about SideWinder :
SWiJ SideWinder is an exceptionally powerful multipurpose Windows utility program which allows you to easily launch Applications, Websites, Shortcuts, Folders, Document Files, Pictures, Music and Videos with just a click. [Read full review here]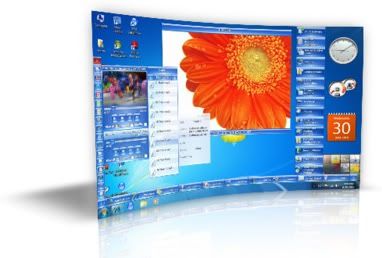 SideWinder is a very useful software for power users and that's why we are bringing back SideWinder Giveaway once again! (If you didn't win SideWinder last time then this will be the best opportunity for you to win). But, this time winning SideWinder is not as easy as last time. Last time we even considered "Count me in, please…", but this time rules are going to be different, especially, the motive behind this promotion is different.
In general, whenever we encounter a good product, we recommend it to others, right. And this is what Tech I Share is doing through this promotion. We are sharing the news about SideWinder with others and we also want you to participate in this campaign. In addition to that, 25 lucky participants will be given $19.95 worth SideWinder personal lifetime licenses! (including A Free Gift Pack of over 150 Crystal Icons and full Free Updates for Lifetime)
I think our main intention is clear to you by now, still obscure? Share the news about good products (like SideWinder). Now it's clear I think. But the main problem comes here. Sharing about good products is OK, but how to share is a big problem? One can tweet, share it on facebook, forum or on social bookmarking sites. But, is that sharing effective? For example, consider yourself only, if you want a software, will you search it on facebook or Download.com? Definitely on Download.com, right. So, sharing on software portals will be effective than tweeting.
Based on these kind of observations we framed these 3 simple rules :
Download the SideWinder from any one of the sites below
Submit a user rating to all the three sites.
Submit a fairly sized and professional review (could be a paragraph or more) to all three sites.
Once you fulfill the above rules, email to "supportATswij.com" (replace AT with @) mentioning your Username/Nickname (of all the above three sites) and Full Name and the same email address that you used to write reviews in above mentioned websites, with subject as SideWinder – TechiShare Promotion – August 2010. Reviews has to be submitted on or before August 31st and winners will be declared in September.