SideWinder Every Day Launcher Companion
Sometimes we say enough to have a windows desktop filled with application icons in such a way that we have to go through all the icons to determine the required soft to launch, also to have a fast access to files, folders, documents, to launch some urls saved as favorites… therefore in order to limit repetitive time consuming action a configurable shortcut launcher is needed that serve the purposes. SideWinder allows to bypass the Windows Start menu, generally congested, to launch applications more quickly. The software comes with several themes such as Heaven, Ice, Lumen, Sapphire, Vineyard, Vista and Windows 7 Aero, or get more Sidewinder official themes.
Sidewinder can be set to start with windows and includes Basic and Advanced versions, to select the mode, right click on the settings button on the side bar and choose. Find the Nip (SideWinder) at the bottom left corner of your screen, just above the Windows Task Bar. Bring the Mouse over the Nip and the SideWinder will expand immediately into a horizontal bar and vertical Side Bar thus offering customizable menu with stylish design. Sidewinder is a very robust application which can handle 15000 launch buttons without affecting the PC performance and any item can be launched by a single click.
SideWinder is like an intelligent robot that sits quietly inside your pc and helps to Quickly Turn Off  Monitor Screen, Open DOS Command Prompt, Open Physical & Logical Drives, Open Local and Network Folders, View Free Space and other information of available Driver, Open and Execute system applications and commands using the Built-in Run Command Tool with pre-loaded commands.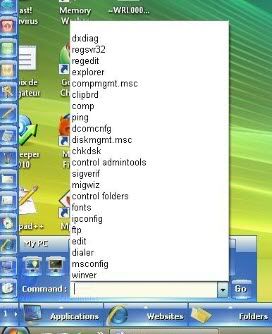 Launch Applications, Access to Social Site and there is a list that offers access to Facebook, Twitter, MySpace, StumbleUpon… Go to download centers, Visit CNN, BBC…. Play music and video, perform a calculation, etc. There is also a Note taking option with Built-in Babylon Dictionary and Translator and more….
Hint : You can use mouse wheel to easily shift between category pages and sub pages.
The semi-transparent, glassy Blue-Sapphire interface offers preset categories (social networks, programs, websites, etc..) and this in order to start filling them with application launching icons.. SideWinder helps to clean the desktop icons. So I started to drag and drop my desktop icons on to Application Slot. After that I didn't eliminate the desktop icon but I created a folder called 'Programs' on my desktop and moved those icons inside the new folder. If the default desktop icons are not very pleasing then right click on the application inside SideWinder and this will popup an editing window that will let to do some modification. Suddenly my desktop was cleaner and younger….. A breeze and cool!
Get benefit from the timer option in SideWinder and automate the launch of an application. To do that move the mouse over the Shutdown button at the Side Bar and you'll see a combo box named 'Task'. Click it and select the "Run App.." option and there you can select an application to be launched. All you have to do is to set a time and click the Start button.

SideWinder works faster if the Button animation effect is turn off. If you feel that you need more speed with the SideWinder, then un-check this option (In Settings) to turn off the animations. SideWinder gives also the opportunity to share the SideWinder Category files (*.swc) with your family members and colleagues or even prepare your own Category. This opens a new door for collaboration and computer management.
If you have a difficulty in order to work with SideWinder then there is an excellent Help Guide that can be reached with a single click.
Some SideWinder Features:
Launch Applications, Games, favorite Websites, Files and Documents
Group and arrange your favorite music files according to their Albums, Genre, Author, etc. and play them at your will.
View the Tag information of your MP3 and WMA music files while playing them.
Put your entire video collection and even links to your favorite videos from sites like YouTube at one location and play them whenever you like.
Select and organize your Pictures according to their Albums and keep them neatly in a single Category or multiple Categories and show them to your Friends one by one.
Open Folders from your computer or other Network Locations instantly by placing them in SideWinder.
Get immediate access to Internal & External Hard Drives, USB Pen Drives, Camera Folders and other Removable Media whenever they're available on your PC.
Automate windows Shutdown, Restart and other process processes with the built-in Timer.
Fill entire Web Forms at once using SideWinder's Text-Snippet feature.
Sidewinder is highly configurable and increases productivity by saving countless keystrokes. With this solid application launcher at your side, you'll find easily your way to fast open applications and more. Download SideWinder from the below link.
Download : Sidewinder
Giveaway :
SideWinder's developers gave us 10 SideWinder's personal licenses to give to our dear readers. So, here is a chance for you to win a SideWinder personal license, which can be used on one computer.
To enter the giveaway :
Comment below, why you need SideWinder personal license.
Share it with your friends (through social bookmarking/networking) and include that link in your comment.
Subscribe to Tech I Share, so that you won't miss the next giveaway.
Have I told you that they are lifetime licenses?