Using Download Manager with Chrome has become compulsory for those who are on slow internet connection because the in-built download manager doesn't have pause-n-resume feature. Though some download managers like Orbit, DAP integrate well into Chrome others like Free Download Manager, Flashget etc has no integration at all. If you love Google Chrome and desperately want to integrate your download manager into Chrome, then Download Assistant is for you.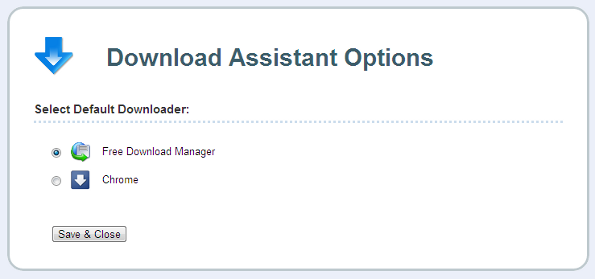 Download Assistant is an extension for Chromium based  browsers (Google Chrome, Comodo Dragon, SRWare Iron etc) and it integrates external download managers into Chrome. As of Now, Download Assistant integrates only few download managers like
FlashGet, FlashGet Mini, Thunder, Mini Thunder, QQ Whirlwind, eMule, Orbit, Internet Download Manager and Free Download Manager in Windows
Wget, cURL, Aria 2 and Axel in Linux
It works with Windows and Linux only. No support for mac and also the number of supported download managers are less. It supports direct links only, hence it doesn't work with download portals like download.com, filehippo etc. So, there is a long way to go for Download Assistant to become like Flashgot. Still, I recommend it because having something is better than nothing!
Download : Download Assistant Official Store Link || Softpedia Link.
P.S. : After installation, you need to go to Download Assistant options page and to set your default download manager.