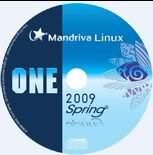 I usually try a lot of Linux distros. Linux is best suited to my work environment. By using Linux I can save a few bucks that I spend on products like MS Office and antivirus on Windows XP. More than that, using Linux brings me peace of mind. I can be assured that all my data is safe, because on XP I don't know when a virus attacks. There is no guarantee for my data on XP. That's why I prefer Linux over XP. This is my own view. The debate of Linux vs Windows is an age old one and I don't want to start that now. But do let me know what do you think about Linux.
Recently I downloaded Mandriva one 2009 spring edition. I downloaded KDE version and installed it. I want to share my experiences of Mandriva with you.
Installation : The installation of Mandriva is same as other distros like Ubuntu etc. I went through similar installation process many times. This is not the first time that I installed Linux on my home system. So, installing Mandriva went smoothly.
Using Windows drives : Mandriva mounts FAT and NTFS drives automatically. So, there should be no problem for you while accessing the data on Windows drives. But I faced a peculiar problem and I discussed about it here.
Internet : Connecting to internet is a crucial part on Linux and on Mandriva this is very easy. After installing Mandriva, you'll have to go through some setup process. In this process you'll be asked about the type of internet connection and other details. Mandriva supports a wide range of networks ranging from Modem to Satellite. I have setup my ADSL connection in a few clicks. Also, Mandriva comes with Firefox 3,  my favorite browser. On Mandriva you can surf internet with in no time. Setting up internet connection on Mandriva is as simple as setting up an internet connection on XP.
Softwares : Mandriva comes with some essential softwares by default. Such as Openoffice, Amarok (music player), Totem video player. But mp3, wma  etc codecs are not installed by default. On Mandriva installing these codecs is not easy. Mandriva don't have a strong community like Ubuntu, Fedora and Opensuse. So, getting help for Mandriva is not easy.
Things I didn't liked… Mandriva doesn't come with a CD/DVD burning software. Normally, Linux distros include Brasero which is similar to Nero. But Mandriva doesn't care about that. You have to download Brasero from internet and install it separately. The main problem with Mandriva is that it won't automatically install the dependencies like Ubuntu. This is very painful. Other distros like, Ubuntu, Opensuse, Fedora, Linux Mint takes care of dependencies on their own but Mandriva won't. Also, on my 1 GB RAM Mandriva runs slowly. XP runs faster than Mandriva. The startup is slow, I can feel that Mandriva is not going smoothly with my System. I never had such problem on other distros. I used Opensuse, Fedora and never felt like they are slow. But Mandriva is really slow. So, I decided to install Kubuntu. I downloaded it this morning and I am going to install it after I complete this article. So I don't suggest Mandriva KDE version to you people. Think twice before choosing Mandriva. Ubuntu, Opensuse, Fedora are much more better than Mandriva.