When I say AVG, the first thing that comes to our mind is their Free Antivirus. With Avira topping detection rates on one side and Avast giving the most complete free antivirus on the other side, it is interesting to see what AVG 2012 free edition has to offer to its users so that they will be happy and satisfied. Previously we have reviewed AVG Antivirus 2011, you can also take a look at it to compare the 2011 version with 2012. This review is going to be a lengthy one, so I'll add few links ahead of the review, so that you can skip to the required sub-topic if you want.
1. Highlights of AVG Antivirus Free Edition 2012
First of all let us look at the highlights and new features of the AVG Free 2012. Let us see them in detail.
Performance Improvements :
All products of AVG 2012 product line boast about performance improvements. In fact, the performance of AVG 2012 has been improved a lot and that's what I observed while using it. Startup is fast. On average, my Windows 7 has finished booting just around 1 min.
It has leaner memory footprint while it is idle, just taking about 30 MB. Even though there are several other products which use much less memory, I think AVG's idle memory usage is good enough. More importantly no slowdown of system is observed.

Usually, system performance is affected majorly during scan. Because, many antiviruses tend to use lots and lots of CPU and memory while scanning and thus making the system very slow. AVG 2012 is a bit different in this matter. While scanning the memory used is constantly around 100 to 110 MB, with CPU usage constantly around 20 to 25 %, but sometimes the CPU usage will shoot upto 95%, which will come back to the usual 20%. So, I can say that AVG memory management has been improved a lot.

AVG Advisor :
This is what AVG officially says about AVG Advisor :
AVG Advisor constantly monitors the computer and proactively advises the user with available remedies and optimization possibilities for various computer problems they may have.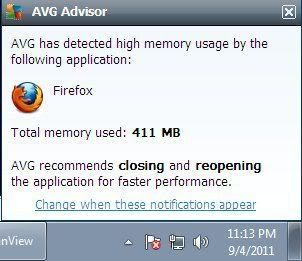 I've been using AVG Free edition 2012 for more than a week and I observed AVG Advisor giving notifications regarding high memory usage of Firefox. Apart from that I didn't observed it notifying about various other problems, as of now. It just gives you some recommendations and it is your wish to act upon those recommendations or not. If you are that kind of guy who don't pay attention to such notifications, then you can turn off those notifications from Advanced Settings.
New Toolbar :
Most of you are not interested in toolbars, but as we are discussing about new features I am mentioning this. AVG Free Edition comes with new toolbar. While installation you'll be given an option to install this toolbar or not.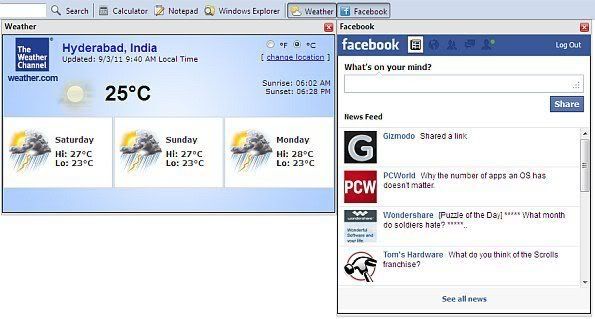 This toolbar is unique and useful. It gives you quick access to some system tools like Calculator, notepad and Windows Explorer (Libraries). You can access them right from the browser in a single click. I am impressed with this toolbar because it gives me quick access to my favorite tools right inside from my favorite location, i.e. web browser. But I am disappointed to see that there is no way to customize this toolbar. For e.g. adding/changing new applications, custom folders to the toolbar for quick access etc. It also comes with Facebook and Weather integration.
2. Installation & User Interface
Installation of AVG Free Edition 2012 can be done in two ways, using offline installer and online installer. Download size of Online installer is just 52 MB, but it is followed by 64 MB of updates. Whereas offline installer is around 150 MB and is followed by less than 18 MB of updates.
Installation can be done in 2 ways, custom and Typical. Advanced users can choose custom install to configure the product as they like.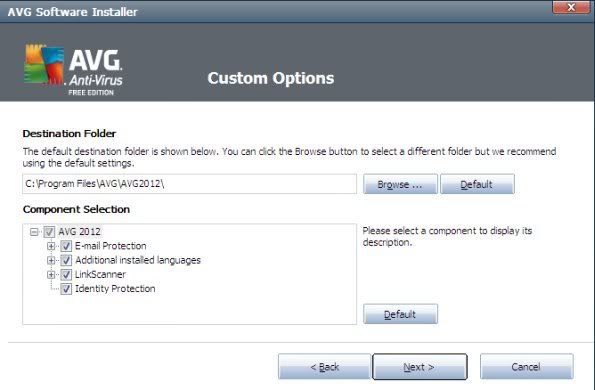 Coming to the interface, it didn't change much. It is a bit stream lined and neatly polished.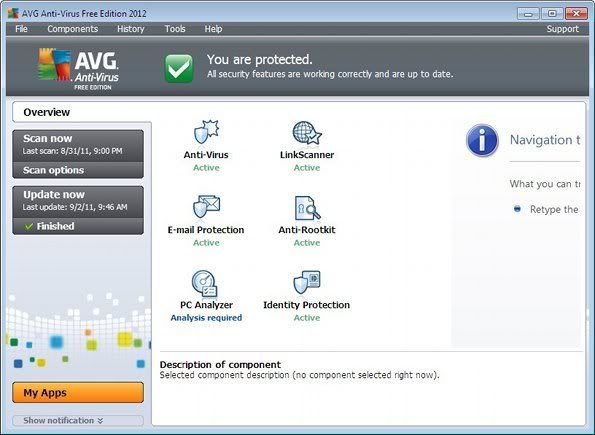 3. Scan Analysis
AVG offers different types of scan modes, namely
User Sensitive
Low Priority
Medium Priority
High Priority
User Sensitive mode is the recommended mode. Because, it changes the resource consumption depending on the usage of user. It uses left over resources. If you are using resource intensive application, then scan will automatically slow down and when you close that resource intensive program, then the scan will automatically speeds up. You won't notice a slow down in this user sensitive mode.
But, there is a small glitch here. Even though User Sensitive mode is recommended, custom scan or Shell extension scan (right-click scan, which we normally use to scan USB drives etc) is always done in high priority mode by default, which slows down the system. If this custom scan also uses User Sensitive mode by default then it'd be better.
Scan Speed :
Scan speed varies from system to system. As you all know it depends on system specs, the other important thing on which it depends is the type of files. I have 5 GB of videos (445 files in total), the scan took just 32 seconds to finish. When I scanned 5.9GB of installers and compressed files, then it took 15 minutes to finish. So, the scan speed and duration depends on your system specs and the majority type of files. So, even though if I say that AVG scanned my computer at some xyz MB/sec, it may not be true in your case.
Another remarkable thing in AVG is that, the scan duration reduced considerably on repetitive scans. Take a look at the below screenshot.
The first whole computer scan (at user sensitive mode) took 3 hours 20 mins to finish. After sometime I initiated the second whole computer scan (at user sensitive mode), but it ended abruptly because of power issues with my UPS. By that time, AVG has scanned 93% in around 1 hour 30 mins. The next day, I initiated whole computer scan (at user sensitive mode) again. This is the third time and this time the scan took just 45 minutes to finish. So, from this we can observe that the scan duration will reduce considerably with each scan.
4. Anomalies (Issues)
The only unpleasant issue with AVG 2012 is with it's toolbar. The toolbar changes the default search engine to AVG safe search (powered by Google), irrespective of your choice while installation. Even though you choose not to change the default search engine, the toolbar will change the default search engine, of Firefox, Chrome and IE. This is the only issue I faced till now.
5. Pros and Cons
Pros :
Protects against virus, spyware, rootkits etc.
Includes identity protection which prevents data theft.
Light on system resources. Didn't slow down system or Internet browsing.
Fast system boot.
User Sensitive scan, scans at good speeds without affecting system performance. As we scan on a regular basis, the duration of scan will go on decreasing by considerable amounts.
Useful Toolbar.
Offers large number of options to customize the program.
Cons :
Only one issue, Toolbar changes the default search engine even though we opt not to change it.
6. Final Words and Conclusion :
AVG Free Antivirus 2012 has improved a lot. Even on my 1GB Win 7 system, I didn't find any slow down. So, if your system specs are better than mine, then AVG will run more smoothly on your system. Also, do note that I am using Windows 7 in-built firewall and hence I didn't face any conflicting issues.
With less memory usage and superior performance, AVG 2012 is right back into the competition. It offers complete protection against malware, has behavior blocking feature and also scans emails and network traffic for malware. So, for an average computer user these features should be more than enough (assuming that you are using a firewall).
Download : AVG Free Antivirus 2012