Security is one of the most important goals for to not allow malicious code execution that can make persistent and harmful changes to the computer or access information that is confidential.
AGB Anti-Malware Free is a security tool that have antimalware scanning ability. The installation is straightforward and rebooting is not required.  Prior ending the installation, the wizard will ask to improve the windows security feature such as:
Immunize the disks : This is to prevent malwares spreading from portable hard disks
Recover the property of files : This to repair files that were damaged by malwares (A reboot will be necessary to complete the action).
Forbid IPC : This to stop malwares that would like access folders and drivers that are included in windows sharing folders and drivers features.  This aim to limit the unauthorized access from viruses and Trojan horses.
Improve system security policy.
If modification is employed by the user then a reboot is necessary, otherwise no reboot is needed. If needed, this option can be accessed later if one use cancel. Windows Safety Enhancement during the software install. Once installation completed the antispyware is minimized to system tray, right clicking will give access to some properties such as scanning mode and monitoring option among others.
The interface of  AGB Anti-Malware is clean and well presented so easy to understand and to start to choose the software capacity. We can see clearly the dangerous section so once checked a quick scan can go through it. Basically on the left side of the interface we find the following categories.  Status, Scan, Protection, Tools.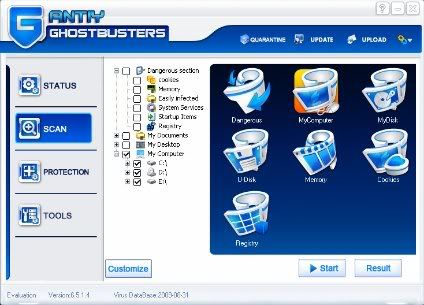 The software is still in development phase and some of them are not yet accessible such as upload malware sample. The scanning engine runs fine with heuristic detection enabled and also manual update for the malware database is available.
So, we started a scan on drive C containing windows and the scan took 32 minutes, the cpu cycle was also monitored and varied between 19-57%. A couple of malwares were found and were removed successfully. Then to test the malware detection capacity a test was undertook on a folder that contained 573 infected files. The right click from the windows explorer was employed and after 38 seconds 512 malwares were identified and then they were removed using the clean option. During the scan the cpu cycle went to 60% on a Intel Core2Duo E6320.
A good feature is that AGB Anti-Malware Free allows the creation of the portable version and this capacity can be accessed from the tool option using Free Installation Edition Tools that guides you to make a USB version so that one can scan any pc located anywhere. According to program makers since The spyware remover actually uses an extensive pest definitions database. AGB Anti-Malware "can detect and completely remove more than 170,000 kinds of different parasites" with a notably high detection rate. The update feature is there to increase detecting capacity by upgrading malware definition database. A security tool must not have the following negative features :
Excessive use of CPU cycles
Excessive use of memory
Excessive use of IO; This can cause performance problems due to excessive use of the memory page cache.
So AGB Anti-Malware can be employed securely since do not include the above negative features and since is still free and under development it can be downloaded and installed for free. This can enhance the computer security without affecting its normal function.
Download : AGB Anti-Malware Free