Just few days back Avira has released their 2012 products. I've downloaded and installed Avira Free Antivirus 2012 (Yup, it has got a new name. Antivir Personal is dropped from its name). Avira Free Antivirus 2012 has come with many improvements and new features like 2-click installation, web protection etc. We'll discuss them all later in another article, which may come in a few days.
I was very much impressed with Avira, except for one thing. Avira 2012 web protection module has slowed down my internet considerably. It made browsing so slow and some websites which usually take few seconds to load took few minutes. So, unable to withstand with it I started to find the cause of the problem and I think I found it.
Disable Web Protection Modules of Other Softwares, like Firewalls etc
I have Online Armor Premium along with Avira. OA Premium comes with web shield which is similar to the web protection module of Avira. With both web protection modules on, browsing speed was slowed down a lot. So, disabling the web shield of OA Premium has speed up the page load times to a good extent.
What we are doing here is, we are making Avira and the firewalls compatible with each other. So, if you are using a firewall which has web protection/shield feature, then disable it.
Note : You may also check out our in-detailed article on how to make antiviruses and Firewalls compatible with each other.
Exclude Images from scanning :
Images/Photos form a majority part of websites. We can make the webpages load faster by excluding images from being scanned. We can do this by going into Web Protection configuration.
Open Avira Interface.
Click on the gear icon beside web protection to open it's settings.
Then type the word "image" in the text-box under File types/MIME types and then click Add.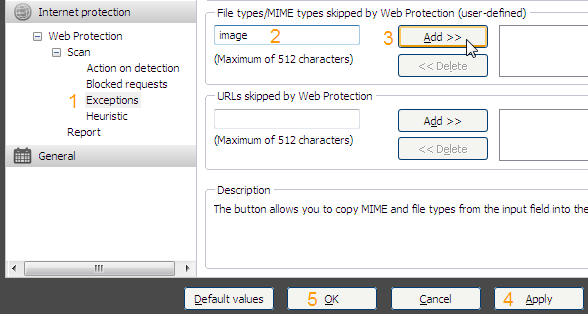 By doing so, Avira will exclude images from being scanned and hence speeding up the webpage load times. Also, malware spreading via images is very rare, so we can safely exclude images from being scanned.
First time loading is always slow :
When you browse the web for the first time after installing Avira 2012, you'll find that every website loads slowly. This is because Avira is scanning the traffic before it reaches the web browser. Avira web protection works like a proxy server.
Avira web protection module stands in between your web browser and internet (Correct me if I am wrong). It scans the web traffic that comes in and goes out of the browser. If any malware is detected, Avira will block it then and there itself, before it reaches your web browser. That's the reason why you feel browsing speed has slowed down.
But, that's for the first time loading only! If you load the website again it'll load at normal speed. This is because of caching of web browser! So, as time goes by you'll observe that the web page loading becomes normal again.

Finally, if nothing works for you. Then uninstalling the web protection module is the only option. As web protection module is bundled with the toolbar, removing toolbar will remove web protection too.