After reviewing Avast 6 free edition I thought of upgrading to Avast 6 Internet Security to see if it's worth buying. So, without any second thought I upgraded to Avast Internet Security.
Upgrading to Internet Security from the Free Version is cool and not cool
Usually, Antivirus license isn't compatible with Internet Security and vice versa. We have to download that particular installer with which your license works. But, with Avast that's not the case. One can upgrade to Avast Antivirus Pro or Avast Internet Security without downloading the other installer. Just insert the Internet Security/Antivirus Pro license file through the Registration window in Free Antivirus and Avast will upgrade itself automatically. This technology is cool.
I'm amazed by this technology of Avast but I got angry to see Avast forgetting the basics. Because, after upgrading to Internet Security, Avast has to turn off the Windows Firewall as it got its own firewall. But Avast didn't do that. So, I have to manually turn off the Windows firewall. Because having two firewalls running at a time is much dangerous than running two antiviruses at a time.
Feature comparison between Avast IS and Avast Free Antivirus
The antivirus module used in the Avast 6 Internet Security is the same that is used in Avast 6 Free Antivirus. Most of the features remain same except for Firewall and few additional protection.
Firewall
Using Avast Firewall is very easy. Avast divides networks into 3 types – Home, Work and Public. Just choose the your type of network and Avast will arrange settings accordingly.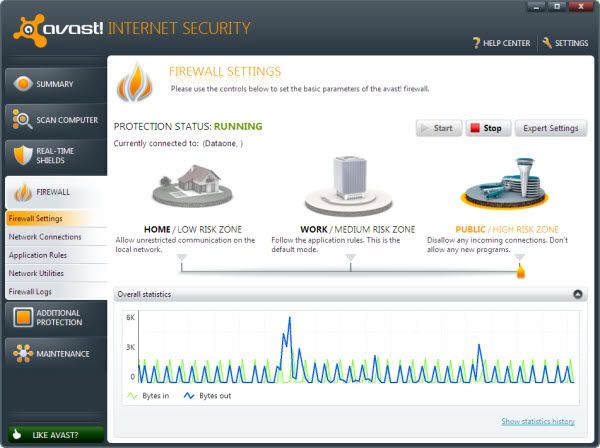 By default, Avast automatically decides whether to allow a program or not, without notifying the user. This suits newbies. But geeks can always customize it as they like.
Avast Firewall shows you a list of processes that are connecting to internet via Network Connections tab. Avast Firewall also maintain application rules. It automatically defines rules (to allow internet connectivity or not) for popular applications. Alternatively, user can also manually define rules for applications.
Avast also has two useful Network tools like Trace Route and IP Address or Domain details. Though only few people use these kind of tools, they always help to check where exactly the problem is occurring in the nwtwork. Also, Avast displays the details in a graphical manner, so it is easy to understand.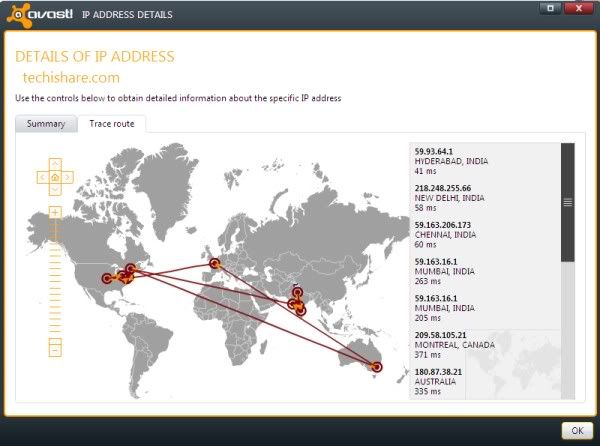 If we take a closer look at Avast 6 change log we can see that Avast 6 has major improvements in their antivirus module. So, Firewall was just carried on from previous version and unfortunately independent results say Avast 5 Firewall is terrible (Just 3% out of 100%). There is no need to wonder if Avast 6 scores same results again.
SafeZone isn't that safe
Avast SafeZone looks like this :
It's much like Panda Safe Browser. Avast Safezone works on Chromium and the browser Avast uses is called SafeZone Browser.
Anyway, I found Avast Safezone isn't like what Avast says. Avast says :
Opens a new (clean) desktop so that other applications don't see what's happening — perfect for banking or secure ordering/shopping — and leaves no traces once it's closed.
As they said, I found normal desktop applications aren't able to see what's going on inside Safezone. But, the vice versa is not true. SafeZone Browser (that's running inside Safezone) is able to access the desktop applications (see above screenshot). I was successful in opening Irfanview (a desktop app) and not only that I also was able to send a file from my C: Drive to Gmail via Safezone.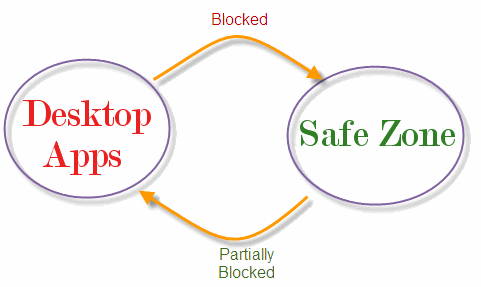 This means we (or hackers or anybody) are able to access real system from safe zone. Unless and until SafeZone is totally isolated from the desktop, we can't rely on it.
Also SafeZone isn't that bad either, the changes made to real system via SafeZone is not reflected in reality. So, hackers can't change/modify your system via SafeZone but they can steal info via SafeZone. (If they can crack Chrome)
Summary
Avast Internet Security is speed and impact on system is less (Using around 30 MB of RAM and rarely shoots upto 60 MB and then comes down to 30 MB). Provides good protection against malware but protection against hackers is just not enough. So, as of now I recommend Avast Free Antivirus (with Comodo/Online Armor/Outpost Firewall) to my readers. And do you think Avast Internet Security 6 is worth buying? Have your say…