Review : Avast Free Antivirus 7
Avast Free Antivirus, critically acclaimed as the most feature-rich antivirus for its price, has released its new line of products a week ago and the way it came into the scene is really mind-blowing. The first beta of Avast 7 was released on Feb 8th, on Feb 23rd there was Release Candidate and on the same day the final version was out (Seemed as F1 race to me). That's just 2 weeks from beta to Final version, so, I expected the very first official version to be fragile because of lack of long-term testing. But, Avast took me by surprise. It was so stable as if it was tested for many months. Thanks to its 150 million user community. There were no crashes, no high CPU usage etc,. But, it'd be too early to come to a decision, so I've used it for a week and found many good things along with some bad ones, so here they are in one single lengthy article.
New Important Features :
There were many new and improved features in Avast 7. But, the following two are the highlights :
1. Streaming Real-Time Updates :
Till recent past, the updates were being pulled by Antiviruses from the update server. This was the case with almost all Antiviruses. Then came the cloud technology where no updates are needed to keep antivirus up-to-date. So did Avast with its version 7, where the updates are pushed to us, by the update server.
When I was discussing about this with a friend, a question raised, What's the difference between Automatic Updates and Streaming Updates? At that time both seemed same to us, infact from user perspective both are same, as the user isn't involved in update process. But, in terms of protection there is a lot of difference. Here is how : By default, the update interval of avast is 4 hours. Say, at 03:00, a new malware was found and Avast team has updated their database accordingly, to keep their users safe. But, on your PC Avast was updated on 2:30 and hence it won't check for updates till 6:30 (as the update interval is 4 hours). So, your PC will be prone to that virus for 3 and half hours! That's the disadvantage.
Now consider Streaming Updates. As soon as Avast team found the malware, they'll put updates in the server and the server will push the updates to your PC, almost instantly. So, with in no time you'll be protected against that new malware and the only per-requisite is that you must be connected to Internet, preferably all the time. If not, there won't be much difference between Streaming Updates and Automatic updates.
2. FileRep :
FileRep is the new community-intelligence component, powered by cloud technology. With FileRep technology, Avast can now make decisions intelligently, like, whether to allow a file or not, without scanning it, etc.
Interface :
The outline of the interface of Avast 7 is the same as its predecessors and no radical changes were made. New features are integrated nicely and the existing features are displayed in an interactive and easily understandable manner.
Another notable thing is the addition of a new tab called "Market". Free Antivirus users can now upgrade to Internet Security or buy new products with confidence, because this way there are less chances of users getting cheated by online fraud.
Scan Analysis :
Avast Free Antivirus 7, has great scanning speeds. The below are the screenshots of Scan results :
You can see that all the 3 scans took almost the same time i.e. ~1 and half hour. Now, I'm confused because usually (in most antiviruses) the scan-duration will reduce from one scan to the other (because of whitelisting of files and whitelisted files won't be scanned again). For example, while reviewing AVG free edition, we found that the first scan took 3 hours 20 mins, the second scan took 1 hour 30 mins and the third scan was finished with in an hour. So, I expected the same from Avast, i.e. the latest scan to finish quickly than the previous scan, but it was not so.
Then, I remembered the Persistent Cache of Avast which reduces the scan times. So, I went to the Scan Settings of Full System Scan and then selected Performance from the left pane. There I found, the settings related Persistent Cache, but unfortunately it was disabled by default. So, I enabled it and the scan timings have been reduced by half an hour.
Performance Impact :
Avast 7 is very light on resources. The Memory usage while it is idle was always less than 10MB and the CPU usage was zero for most of the part.
Coming to resource usage while scanning : By default, Avast scanner is given the Highest priority. That means the scanner can use any amount of resources in order to finish off the scan in least possible time. In general when we scan at high priority our PCs will become unresponsive. Thats the general case, but Avast is an exception here.
Even though it scans with high priority, it uses very less memory and the CPU usage is found to be around 10% and less, with maximum CPU usage (in my case) being 25%.
Issues :
I didn't face many issues with Avast 7, except one. The issue is with the same component which annoyed me last time, The AutoSandbox. In Auto mode, AutoSandbox will give an option to the user to tell Avast on how to deal with the same application (which was sandboxed now) when it is executed next time, i.e. whether to run the suspicious application in sandbox or not.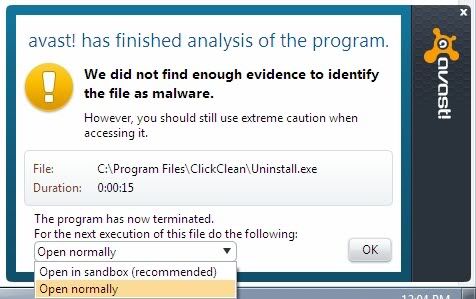 In my case, Avast has sandboxed ClickClean application and as I trusted that application, I've chosen to open it normally when it executes the next time.
But, inspite of my decision to run it normally, Avast has sandboxed it everytime I ran the application. This issue may not be a big one, but it'd be a bit of annoyance to that user who face this issue.
Conclusion :
Pros :
AutoSandbox was improved over the previous version. It can now decide whether to run a suspicious application in sandbox or not, using the Auto mode, instead of waiting for the user input.
Ability to install it as on-demand (or 2nd opinion) scanner.
Doesn't download huge updates after installation.
Blazing fast scan speeds.
Less resource intensive and doesn't slow down your PC even while scanning.
Faster boot times, boots within 1 minute.
WebRep – browser security plugin works well with IE, Firefox, Chrome and Safari. Addon for Opera will be coming in few months.
Cons :
Only one, AutoSandbox is improved but still there is some room for development.
Be watchful while registering product, if not you may end up installing Internet Security Trial version (due to Ads while registration).
New Remote Assistance tool, is actually not needed. We have a better alternatives (like Teamviewer).
After using Avast Free Antivirus 7 for a week, I really feel like thanking those developers for not disappointing 150 million users. Avast 7 has carried all the goodness of its predecesser. Its File shield, Network shield, Mail shield, Behavior shield, Web shield, Script shield, P2P shield and IM shield will provide all round protection against malware. Only thing it misses is the Firewall, but finding one isn't a big problem. There are many free Firewalls that play well with Avast. Avast has just got better with version 7, with the addition of new features FileRep and Streaming updates, which are based on cloud technology.
Download : Avast Free Antivirus 7