Bitdefender Total Security 2013, is the flagship product of Bitdefender. It is a one stop solution that protects user from all kinds of threats and also provides tools to fine tune the computer for optimum performance. Now, let us have a closer look at it.
Be warned ahead that this is going to be a big review, so make use of the following links to jump to any topic of your interest.
Installation & Configuration :
Installation is simple and straight forward. If you choose online installation method, then the installer will download more than 200 MB of installation files and will install the product. If you have slow internet connection then go with offline installers instead.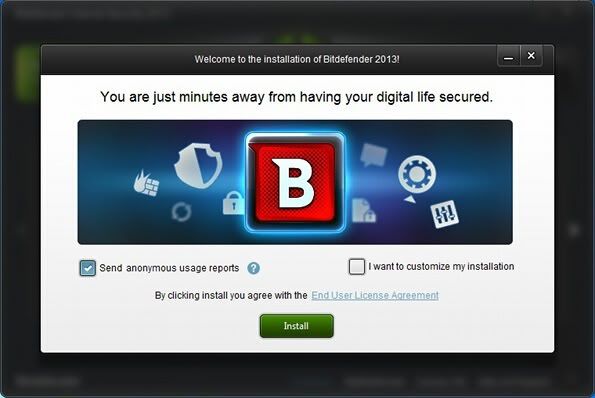 Once the product is installed, a wizard will take you through a step-by-step process to configure the product, where you can turn ON/OFF the components of Total Security.
User Interface :
If you have already used Bitdefender 2012 products, then you can clearly see that the much praised same old easy-to-use interface is carried on to Bitdefender Total Security 2013 with minor tweaks.
The interface is much more refined than its predecessor. Each module has its own Settings window, hence there is no clutter or a chance for confusion. Secondly, in addition to the main interface, there is a grid-based interface attached, which will show up when you click on the square matrix icon left to the slider.
Protection :
Last year we've seen that Bitdefender products have topped in the tests conduced by independent security testing agencies. The same award winning Bitdefender Antivirus and Firewall modules of last year were just carried on without any changes.
Antivirus :
There isn't much change in the Antivirus module of 2013. Same scan types and protection mechanisms were used in Total Security 2013 (To know more, read our last years' review of Bitdefender Internet Security 2012). Bitdefender Total Security uses the traditional signature based and intelligent heuristic based technology (known as Active Virus Control) to protect you from all kinds of known and unknown malware. If in any case a malware isn't removed inside Windows, then Bitdefender will make use of its Rescue mode to remove threats.
In addition to traditional protection methods, Bitdefender Total Security 2013 will ensure that all your softwares and operating system are up-to-date, thus making sure that no known loop holes were open.
Firewall :
Bitdefender Total Security employs a two-way firewall that monitors inbound and outbound connections. Usually, when we think of Firewall, lot notifications and pop-ups will come to our mind. But, during my usage I found that the firewall was silent all the time. Thanks to its auto-pilot mode that takes care of everything on its own.
Firewall rules are divided into 3 types :
General Rules : The rules are protocol based. You can either completely allow/block traffic based on the protocols.
Application Rules : Clicking on this will show you the rules created by Bitdefender. You can also manually create rules for a new application, or edit the rules of an existing application.
Adapter Rules : To completely allow/block traffic from a network adapter.
So, you can edit existing rules or create new rules easily. For example, if you want to completely block traffic, then go with Adapter Rules and block the network adapter. If you want to block in coming emails then go with General Rules and block that protocol, and so on.
Privacy :
Usually we use our regular web browsers to do online banking. So, one day like many of you I went to my bank's website using Google Chrome and there came a pop-up from Bitdefender asking me to use Safepay.
Safepay :
Safepay is a secure web browser built on Google Chrome (version 17 to be precise) to help you make your transactions safely. When you run Safepay, a secure virtual environment will open that keeps keyloggers and all prying eyes away from what you are doing inside.
The good thing about Safepay is that, this feature is an interactive one. You don't need to open Safepay manually. While browsing normally, when you go to a bank's website in the regular web browser then Bitdefender will show you a pop-up asking you to switch to Safepay.
In that pop-up notification if you choose remember this option, then from then on Safepay will automatically take over whenever you visit bank's website. That is, you don't have to manually run Safepay. Just, browse normally and whenever you click on the bank URL in Google or type in address field, then Safepay will take over the session.
The only disadvantage here is that, due to isolation of Safepay from desktop, you can't use password managers like Lastpass. You have to manually type in everything. So, before using Safepay, make sure you remember the password. Other than Safepay, Bitdefender provides anti-phishing, anti-fraud and file vaults to protect you from bad websites and to keep your confidential data secure.
Tuneup :
Bitdefender Total Security 2013 provides an all round system maintenance service, alongside with traditional security tools by providing following tools :
Registry Cleaner : Removes orphaned registry entries.
PC Cleanup : Removes junk from your PC.
Disk Defragmenter : Defrags disk drives.
Duplicate Finder : Removes any duplicate files found on your system to gain disk space.
Registry Recovery : Restores registry to a previous working state.
So, nice set of tools were provided, but they were pretty basic. You can get more from CCleaner than this. Only Duplicate Finder is impressive.
Other Features :
USB Immunizer – Immunizes any Flash Drive from viruses, when they are connected to your computer, so that you never worry again about USBs infecting you or your friends.
Personal Data Filter – Prevents critical data (such as anything even resembling your social security number) from ever leaving your computer.
Antiphising – Analyzes and blocks websites that support various scams or credit card phishing attempts.
File Shredder – Ensures that no traces of your deleted sensitive files remain on your PC
File Encryption – Locks up confidential files in an encrypted vault.
Social Network Protection –Bitdefender filters/blocks social-networking specific e-threats by scanning the links you receive from your Facebook and Twitter friends, monitors your privacy settings, and much more!
Search Advisor – The Link Filter relies on intelligence provided by Bitdefender Cloud services to flag malware and phishing attempts in search engine results.
Performance Impact :
Bitdefender Total Security is light on system resources and I didn't face any performance issue. Startup times are also quick, taking around 1 minute to finish booting Windows.
Memory & CPU usage :
When idle, Bitdefender Total Security was using memory ranging between 20 MB to 30 MB and CPU usage was zero for most of the time.
While scanning, memory usage went upto 130 MB, but was constantly switching between 40 to 90 MB and the CPU consumption being less than 20% all the time.
Scan Speed :
In order to check the scan speed, I started whole system scan in Bitdefender Total Security and it started to scan my 90 GB system.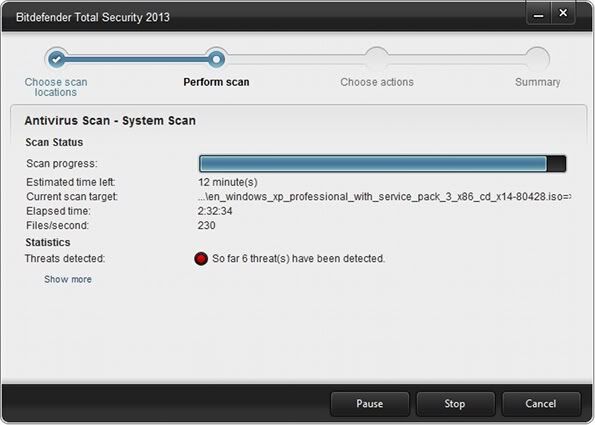 Within 2 hours 50 minutes, the whole system scan was finished at a speed of 9 MB per second.
Pros and Cons :
Pros :
Easy-to-use interface.
Light on system resources. No degradation in system performance is noted during my use, even during the scan.
Proven award winning antivirus engine and two-way firewall protects you round the clock.
Safepay is a user friendly secure web browser that creates a virtual isolated environment to help you to do online banking safely.
Protects you against phishing and fraud sites too.
Search advisor, sandbox and antimalware web filter works with many web browsers.
From My Bitdefender account, provides a centralized platform to manage licenses over multiple computers, control stolen devices using Anti-Theft feature and also lets you customize settings of Parental Control.
Best 24 x 7 chat support.
Cons :
Weak Tuneup maintenance modules. Even freewares like CCleaner are much superior to the Tuneup modules. Only Duplicate Finder tool is the impressive one.
Huge Installer size of more than 200 MB.
Sandbox component is embedded into toolbar. People may want Sandbox but not toolbar, so isolating sandbox from toolbar is needed.
Conclusion :
As you can see, Bitdefender Total Security 2013 has everything from protection to maintenance. Independent testing agencies have already proved that the protection provided is one of the best in the industry. The only weak point in whole suite is the Tuneup part. Apart from that, everything works really well. With light resource usage and superior protection, surely Bitdefender Total Security 2013 is one of the best if not best!
Giveaway
First of all thanks to Abdur Rehman of Bitdefender for kindly donating the licenses. For the first time we are trying Rafflecopter. There are 4 steps for you to fulfill such as liking a facebook page etc and if you don't have an account at facebook then don't worry, you'll still be eligible, just fulfill any of those tasks. But, remember the more your score is the higher the chances for you to win. All the best!