Roboscan Internet Security Free: A promising entrant in free antivirus arena
Antivirus market is a hugely competitive one. And even there is a huge competition between free antivirus which apparently makes no economic profit to the company other than increasing its popularity. Roboscan Internet Security Free from ESTsoft is a new entrant into this crowed place. You may not be heard about South Korean company ESTsoft but you must be aware of its popular products like AlZip. It also develops antivirus products AlYac that is based on Bitdefender engine and ESTsoft's own "Tera Engine". They also had released a free antivirus for their Korean users last year. After its successful performance in Virusbulletin (here and here) I kept an eye on their global website where there was a notice about a free antivirus for global market. Today I was notified in Wildersecurity that, it has been released but under a new brand name Roboscan. I don't understand the reason as the name AlYac or ESTsoft would have been better because of its already grown popularity.
Anyway I went immediately to download and install the application in my virtual machine having Windows XP Pro 32 bit with 775Mb RAM.
The software comes in three flavors, the basic difference of which can be seen below.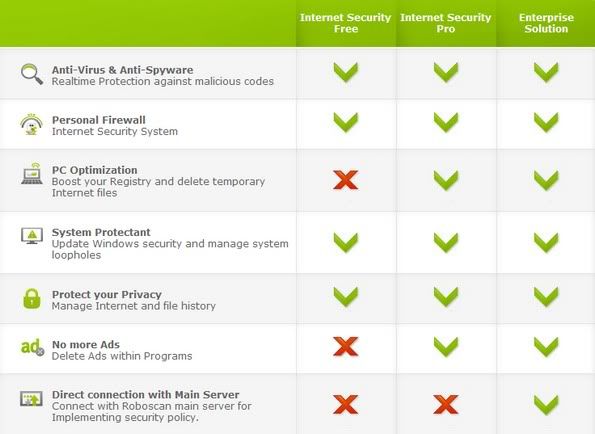 System requirements are as follows :
Installation :
Took about 5 minutes to complete. No reboot is required. Although it has an inbuilt firewall it do not activate it by default. You have to manually turn on its firewall and that thing required a reboot. After the reboot it turned off windows firewall autoatically. Security center properly identified Roboscan as firewall and antivirus.
User-Interface/Usability/Configurability
The user-interface is soothing to eyes and it has a lot of configuration options.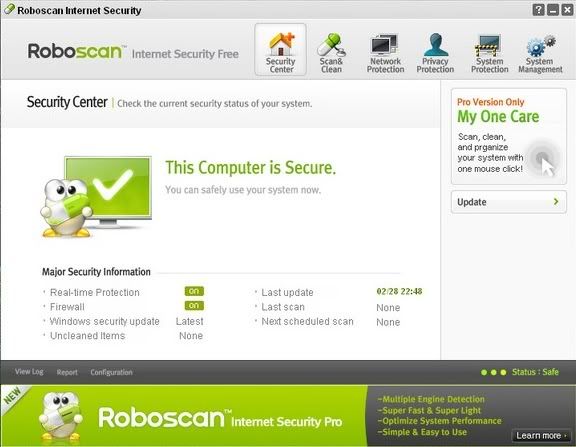 It also makes a tray icon, right click menu icon and a desktop icon
It is reasonably light on resources. Runs 3 process at idle time requiring maximum 40Mb RAM and no CPU usage. While scanning it runs an additional process, requires total 60Mb RAM and 70%CPU in maximum.
Firewall :
I haven't tested its effectiveness. But it is as silent as windows firewall.
Scanner :
Roboscan has three modes of scanning :
Quick Scan: It checks currently operating processes and crucial system areas. It is the fastest way to detect malicious system threats.
Basic Scan: It checks all crucial system areas and frequently infected locations.
Advanced Scan: It checks all system disks or specified folders. Compared to other scans, Advanced Scan takes more time but provides a comprehensive scanning process that detects every possible online threat.
But the scanning is fast enough thanks to it's smart scan technology. When Roboscan scans, it stores a record of safe files in an internal WhiteList database which it uses for reference in future scans. This WhiteList database is updated after each scan, reducing the time it takes to complete each successive scan.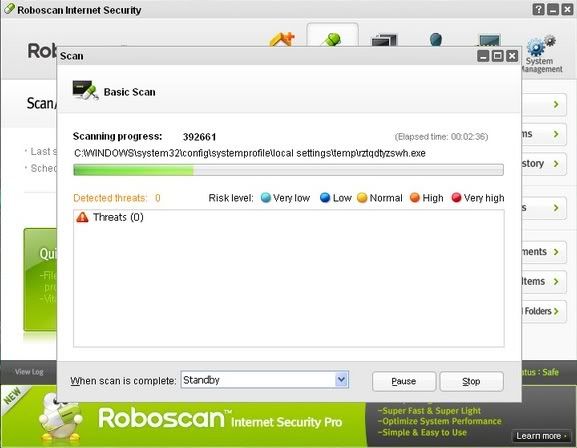 It also has heuristic scan (disabled by default), scheduled scan, scan exclusion settings. It can also scan/monitor compressed files (disabled by default). Th only bad thing about manual scan is that you can't access other parts of the user interface while scan is running.
Real-time Protection :
It do not have any web traffic filter unlike Avast, Panda and Fortinet but its real time scanner is very efficientive/prompt in catching malware. I tried to extract archive full of malware and its realtime protection didn't left anything for on-demand / on-execution protection to do.
And another good thing is that by default it leaves up to the user to take decisions, doesn't automatically removes infections. If user selects to clean infections it sends those to quarantine. This is a good settings as this reduces chances of system failure once any false positive detection occurs. Also Roboscan has an unique false positive recognition system that reduces false positives. Roboscan also features a proactive detection technology to block unknown malware. It analyzes suspicious files in an isolated virtual environment to detect potential threats before they occur.
Roboscan also features self-protection to prevent malicious threats designed to neutralize Roboscan security features.
Additional Tools :
Roboscan has a number of additional tools.
1. Shredder: It helps securely deletion of sensitive data.
2. Vulnerabilities Protection: It scans for several weaknesses in your OS and allows you to fix those.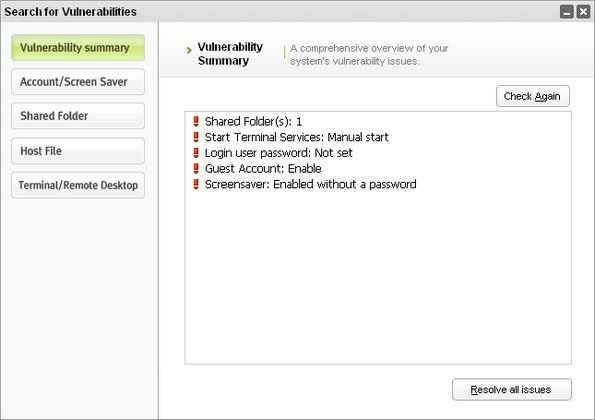 3. Windows Security Updates: It allows you to check for windows security updates.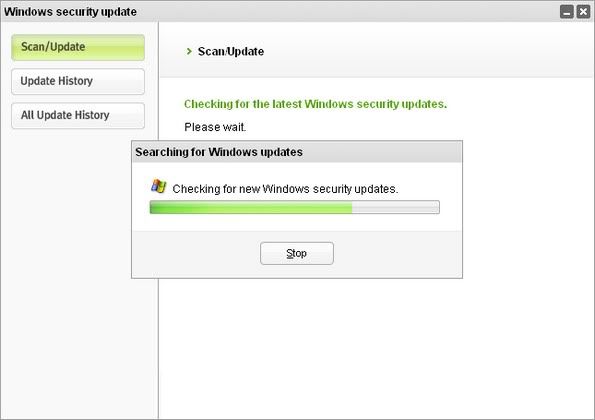 4. Computer asset information: You can get information about you computer, its hardware and installed software within the user interface of Roboscan.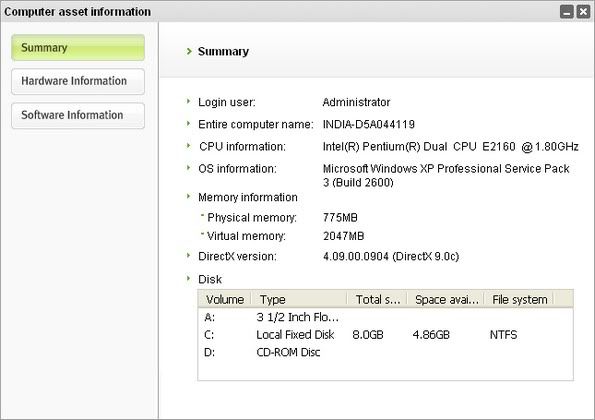 Records :
Roboscan can keep logs of events, stores infected files in a quarantine and saves uncleaned files.
Lock Configuration :
Roboscan allows to protect configurations from unwanted modification by setting a password.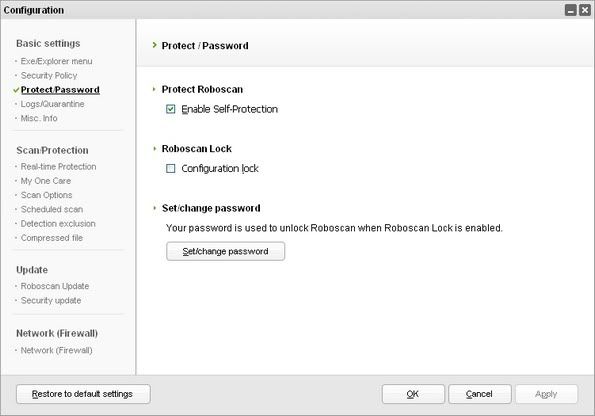 Updates :
Roboscan updates automatically. Unfortunately there is no option to modify connections. so it can't be used in proxy server that requires authentication. Also it updates by default using P2P sharing just like Spyware Terminator.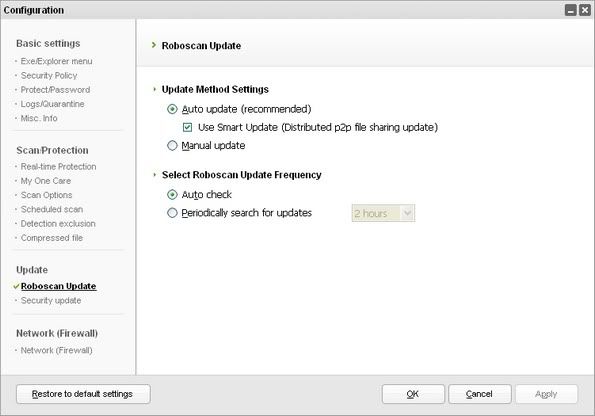 You will also be able to use this product in offline PC and to update the application time to time you have download the appropriate offline updater files. It updates every single day.
Roboscan updates everyday. You can keep track of updates from their website.
Advertisements :
It shows some advertisements but those are unobstructive.
My verdict :
I really liked this product. Nice design, less system impact, fast scan, frequent updates, good detection and bug-free free Bitdefender. But I observed something that gave me something to worry about. In the Video, you will be able to see some samples that were undetected by Roboscan. I scanned those files using Hitman pro which has G-Data as one of the scanner. G-Data uses two engines: Engine A: Bitdefender and Engine B: Avast. Many of those files that were undetected by Roboscan were detected by Engine A of G-Data. This leaves me to the confusion if Roboscan uses a very old version of Bitdefender engine.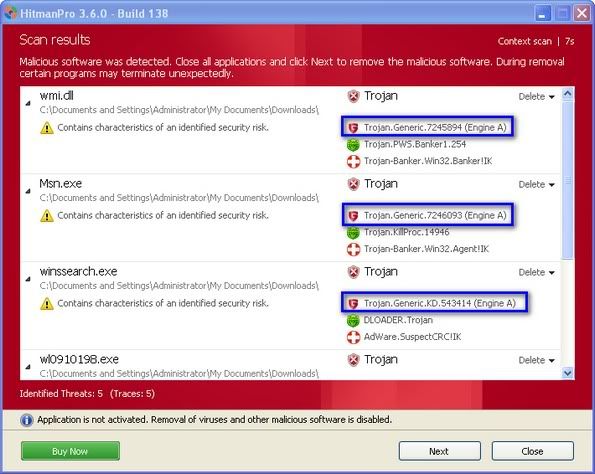 Anyway, I wish ESTsoft all the success with Roboscan.
The free product can be downloaded from links as given below 32bit Download : www.roboscan.com/download/roboscan_is_free_x86.exe[138mb]
CRC-32: 03a1cfe5 MD4: be07e0b883ae99c900a65e55ab1273ea MD5: f2cd401a79dc3626ad78adc1f5660ef8 SHA-1: 1b675111ef193138eaf6669ae7257942fb865639
64bit : Download : www.roboscan.com/download/roboscan_is_free_x64.exe[140mb]
CRC-32: 7ea9c136 MD4: b592fd969ff22345117fef386fe25da6 MD5: b9db2c9883f5ab35af3f7dc848663194 SHA-1: 1097f20e12b3f63fe472efcf31fdee036af65706
Slideshow of Roboscan Internet Security (Screenshots) :