Safely Carry Your Files, Folders And Passwords Using Protectorion Data Safe
Carrying valuable documents from one desktop to another via USB key needs safety measurements and this can be achieved by special software that encrypts files. We have protect confidential data using strong encryption and prevent others from reading and misusing your data. Protectorion Data Safe is one such software that has a free and pro version. The free version can encrypt up to 100 files and 5 passwords only.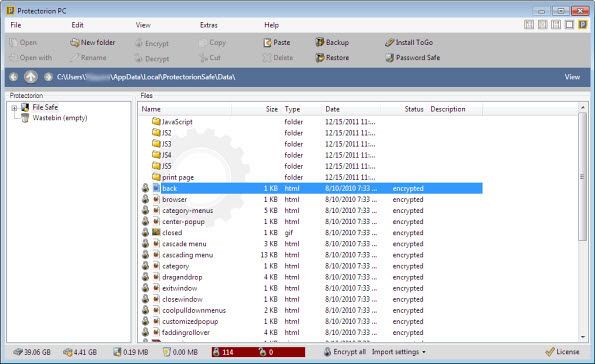 Installation of Protectorion Data Safe is easy. After installation you will be invited to choose a master password which has to comply with their recommendation (minimum 6 different characters with 2 digits or special characters). Otherwise your password will be rejected and you must choose a new password accordingly, also a password strength meter will let you know how secure your password is. To change the master password click on Extras on the software main interface and choose Change Password and follow the wizard.
As you will notice Protectorion Data Safe has a sys-tray icon with several options revealed on right click. Besides the main window a small widget called Protectorion PC (SafePad), that floats around the desktop  which can used to drag and drop files or full folders for automatic encryption. The files are encrypted with the AES256 cipher. Protectorion copies the selected data to the File Safe (where all encrypted files reside) and a pop-up message will inform that the task is done and you will see the data  in the safe, automatically encrypted and also immediately protected with your unique Protectorion master password, without which you can't access the data.
If you want to find out where is the location of File Safe click on File Safe and the toolbar above lets you know the full file path where data is being stored in Windows. When you navigate with Windows Explore in this File Safe folder (Data) you can see that the contents and names of the files and folders are encrypted. This data can neither be opened nor modified outside of Protectorion!
By default, the actual data which you encrypt will not be deleted from Windows, even after encryption. The original confidential data can still be accessible and open to danger. Now, if you wish that the confidential data to be deleted from Windows when encrypted in Protectorion Data Safe, then click on Import Settings in the status bar at the bottom of your Protectorion Data Safe  user interface, now you will see two options:
Erase data in Windows after Import.
Do not erase data in Windows after Import
Choose the first option to keep the confidential data only in Protectorion Data Safe.
Protectorion also comprises Protectorion ToGo, which can be employed on USB-sticks and external/internal drives. To get this part of software head over Extras tab and choose Install ToGo, this will pop-up a small window to carry on the instructions. Use Protectorion ToGo to protect your data on external devices like USB keys, External hard drives etc.
Protectorion Data Safe is a handy software to protect confidential files and folders as you work on desktop or travel with important documents. Download Protectorion™ Data Safe from this link and upgrade to the shareware version to have unlimited encryption ability.
Download : Protectorion