When I started watching youtube video directly from web browser such as Internet Explorer, I sadly noticed a slow progress bar of the video accompanied with buffering issues, freezing and interruption that eventually stops youtube video to progress and on such occasion I usually tried to help the progress bar to go forward by sliding it little bit forward or cleaning temporary files plus windows registry. And Yes sometimes even these action is not of help, an alternative is to download youtube as flv or as any other format using online tools dedicated to this purpose or by installing a freeware/shareware softwares on the desktop.
Well another option to enjoy youtube is to use a youtube video accelerator that integrates the browser and ease the playback by eliminating the freezing and buffering issues on youtube and on other video sharing sites, a quick search over the internet led me to Leawo video accelerator which is offered in a freeware version with a limited features and for more power there is a pro shareware version.
The  free video accelerator version  can effectively speed up video playback from YouTube videos and other videos on the internet. But, it not just is a video accelerator (support HQ video acceleration and downloading), it also is a browser, video downloader, video player and video manager, with it, you can search videos from internet, play videos with accelerated speed, download videos with accelerated speed, and manage videos you have viewed and downloaded.

The only difference between the two versions is that the pro provide HD video acceleration thus provides larger, higher resolution videos smoothly with no freezing or buffering interruption. This unique solution downloads videos from multiple sources simultaneously to ensure the smoothest Playback of all your favorite web videos. Click here to know more about Leawo Video Accelerator pro.
Once the software is installed on the pc it will minimize to system tray, right clicking on it will give some options such as settings, add url… If a youtube video starts to play then will be detected and downloaded automatically, this can be renamed, played, moved to another category, converted and burned if the appropriate Leawo softwares are installed to perform such actions.
When the software is brought to full screen then one can choose the browse tab or the video tab. The browse tab opens a Leawo web sites and will propose some video sharing sites from which a video can be downloaded and this makes the search easier. While the video tab open the video manage section plus the video player and all options that are available to take actions.
Key Features of Leawo Video Accelerator:
Convenient video browsing- it provides two ways for customers to browse videos
Faster video playing
Quicker video downloading- Batch-downloading up to five videos at a time is also easy to be done after simple settings.
Comprehensive video managing
Powerful video converting-Free  Leawo  FLV Converter should be installed makes it possible to convert those downloaded FLV flash videos to other popular video formats like AVI, MP4, VOB, MKV.
Leawo free video accelerator also can enable you to set home page of it, set whether automatically convert FLV to Video, set the mask number it can process at the same time, etc.
Thus to ensure the better playing capacity, the following screenshots were taken and a careful examination will demonstrate that without Leawo video accelerator the youtube video progress bar is slower compared to the one that has Leawo video accelerator (LVA) on.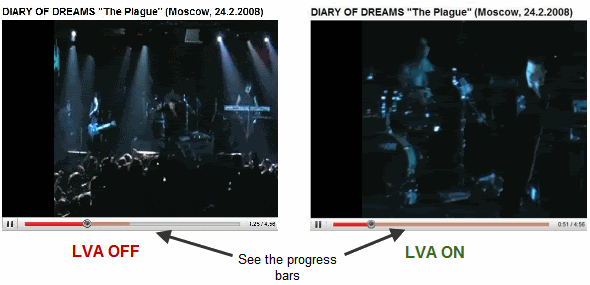 So if you watch daily youtube and experience some playing problems then go ahead and install the free version of Leawo video accelerator and if you need a better quality which means accelerating and downloading HD videos whose size exceeds 852(W)x480(H) then the shareware version is also available.
Download : Leawo Video Accelerator