Acebyte Utilities takes 360° Care of Windows
Experienced Windows user can through the Control Panel and Regedit fix some problems but  a novice will need a software that groups all the necessary functions in a user friendly interface and without getting lost in the corridor to be able to do some Windows OS repair. Acebyte Utilities is one such novice-friendly software that comes in Free and Pro (shareware) versions. It offersnecessary tools to overcome Windows Doomsday and prevent so many screens of death (BSOD etc).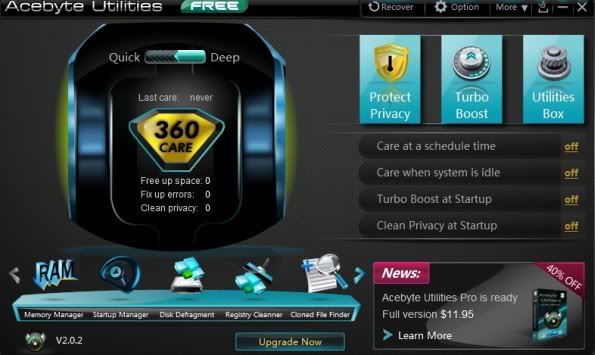 Acebyte Utilities now have a new well guided interface, notice the big 360 Care button with a Quick and Deep Scan options. Clicking on 360 Care will bring a new interface and will let the user to decide which part of windows to clean, notice that Network Optimization and Registry Defragment are for the Pro version only.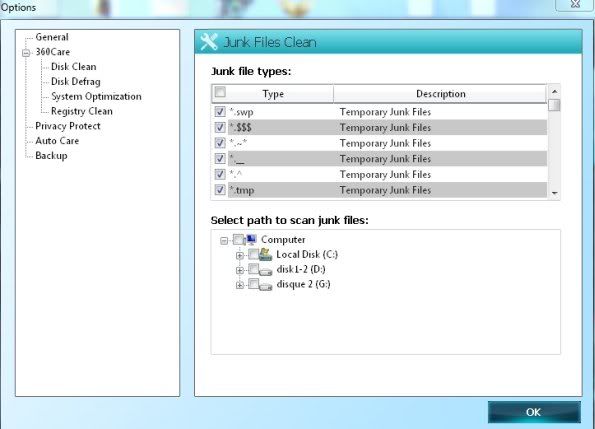 Windows Cleaning can be tweaked from the Option menu located on top bar right corner of the interface. From this screen we can see which parts of Windows will be scanned and we can choose to exclude or select path such as to scan for junk files. As you will notice some extensions in Junk Files Type by default are not selected and this is to avoid mistakes, but user can decide to re-enable if they feel otherwise.
The System Optimization offers the following profiles
Home Computer With Networking
Home Computer Without Networking
Office Computer With Networking
Office Computer Without Networking
Game Box With Networking
Game Box Without Networking
As we continue scrolling through Dock Style Launcher below the 360 Care button or from the interface such in the Utilities Box we will find more locked features like Registry Cleaner, Cloned File Finder, Context Menu Fixer and Driver Backup. Luckily the Turbo Boost feature that is reached from the main interface through a well guided Wizard will help to shut down unnecessary processes or features and this in order to gain more power and speed. This is handy in case we run online games or we use power hungry soft like Video Editor, Adobe Photoshop…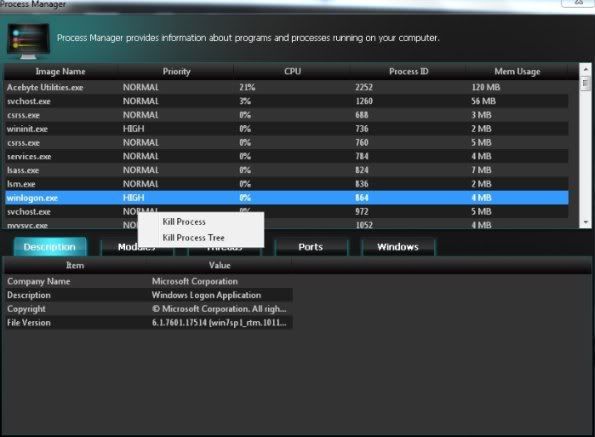 Acebyte Utilities also includes a handy Startup Manager and Process Manager, each one has its own screen, through the Process Manager (Two Sub-Windows) we get more information on an item since we have insight on its Priority in the hierarchy, CPU usage, Process ID and Mem Usage. There is a separate dedicated window located under the listed Process that reveals the owning account, so if a process revealed malware or unneeded can be Killed by right clicking on the Process. This is handy to track leaks.
Acebyte Utilities Pro features:
Quick or deep care for your PC
Speed up internet connection
Deep Registry Scan and Compact the Windows Registry
Active and De-active context menu
Backup system driver files
Automatically care for PC and protect your privacy
Turbo boost your PC
Search for cloned file
Fast and automatic updating
With Acebyte Utilities free version you can fix small Windows Errors, remove bad shortcuts, rebuilt file association properties, whereas the registry cleaner option in Acebyte Utilities Pro offers more cleaning options and deeper scanning to give your PC better care. Download the free version from this link.
Download : Acebyte Utilities