Add Your Picture Or Video to Windows 7 Taskbar With Taskbar UserTile
There is a lot of buzz about Windows 8 even before it is launched and some of our fellow geeks have started to mimic some functions of the new upcoming OS. Taskbar UserTile is part of such softwares, in fact it brings the user image or avatar to Windows 7 taskbar. This feature is seen in Windows 8 which makes desktop more user personal, therefore just by looking at the picture at bottom right corner in the taskbar we can see which user is logged into the computer.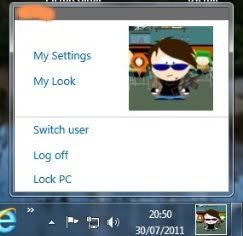 When you launch Taskbar UserTile, an image will be added to the taskbar. So to make it more personal upload your desired picture in form of .png to the Resources folder located in the extracted Taskbar UserTile folder. If you are interested to set a video as your user picture or avatar on Taskbar, then place a video (.wmv) in Resources and just edit path in config.ini. By default a picture and a video.wmv are shown in Resources folder, so if there is a problem on file extension or size then take look at those default files in resources.
Create your video with this reference:
Video format: WMV (Windows Media Video)
Height: 192 pixels
Width: 192 pixels
Save it as usertile2.ms-usertiledynamic.wmv
Clicking on the Usertile gives you quick access to Control Panel and User Account settings, personalization, switch user, log off and lock PC. Since there is no option Start with windows and in order to see the picture in the taskbar, you need to run UserTile on each reboot, which is tough. As always there will be an easy way to do this, and the trick is to place a shortcut of UserTile.exe in "Startup" folder of Start Menu.
To add Usertile shortcut to Startup folder, browse to the following folder :
C:\users\%username%\AppData\Roaming\Microsoft\Windows\Start Menu\Programs\Startup
Copy and paste above path in Windows Explorer and hit enter. Now, in the Startup folder, Right-click on empty area, and then select New and then Shortcut. Now copy and paste the path of UserTile.exe and hit next. Now, give it a name and click on finish. From now on, UserTile will run on each startup, thus keeping your desktop look personal at all times.
Download Taskbar User Tile for windows 7 now from the link below and have fun.
Download : Taskbar UserTile