Advanced System Tweaker : An Add-On Based Tweaker For Windows
Advanced System Tweaker is new software from Tweaking.com that is dedicated to tweak Windows settings which otherwise would be complicated and time consuming if to go from Windows Explorer to each settings. Bypassing Windows command prompt, registry files… can be done using Advanced System Tweaker command central and this gives a layer of security as there is less chance for novices to commit mistakes with this program.
Installation of Advanced System Tweaker is straightforward and prior to do anything users can get benefit from Registry Backup function powered by ERUNT. This will let you revert the registry system to an earlier state.
After taking backup, click on Continue To Program to get the list of Windows built in programs which can be accessed easily from one place. Reverting to earlier Windows system state can be done anytime from restore point, so click on File and choose Open/Create System Restore Point. The Option Save Detailed System Information will launch Tweaking.com – System Information tool. Coming back to various tweaking options, you can get detailed information regarding a fix by clicking on it. Every Fix has Enable and Disable options.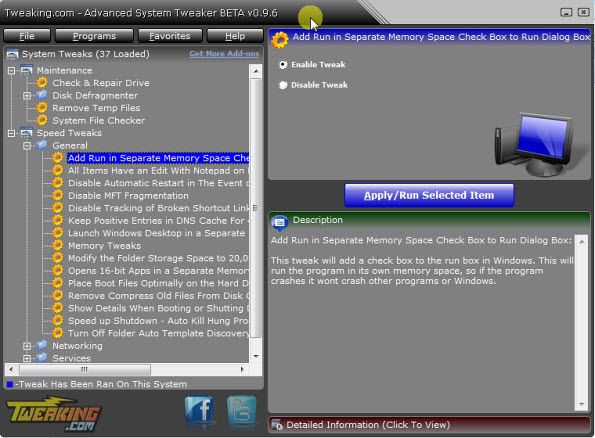 System Tweaks are divided into 2 categories
1) Maintenance: From here you can perform tasks like Check and Repair Drive, Defragment disk, Remove Temp Files, System File Checker.
2) Speed Tweaks: There are 3 Sub-Categories :
A) General: Some of the tweaks are:
Add Run in Separate Memory Space Check Box to Run Dialog Box
All Items Have an Edit With Notepad on Right-Click Menu
Disable Automatic Restart in The Event of a BSOD (Blue Screen Of Death)
Launch Windows Desktop in a Separate Process
Place Boot Files Optimally on The Hard Drive For Faster Boots
B) Networking: Some of the tweaks are:
Disable TCP Timestamps
Improve Network File Sharing
Keep TCP Working When Using Internet Connections Sharing
C) Services: Some of the tweaks are:
Diagnostic Policy
SSDP Discovery
Windows Image Acquisition (WIA)
This program is add-on based. So, if you need more tweaks/fixes than what is offered then you have to add that new add-on under a category in the path installation directory – Advanced System Tweaker- add-ons-Maintenance or Speed Tweaks etc… Now, new add-on can be added from File > Open Add-ons Creator. Novice will find it difficult to create addons, but you have the possibility to request (In interface, Goto Help > Get More Add-ons) by going to this link.
As you can see there are so many opportunities to make Advanced System Tweaker more personal via Add-Ons.
The software gives fast access to important built-in functions of Windows. This can be achieved by clicking on Programs and a drop down menu will reveal all available links within the software. So, you can launch Control Panel, Device Manager, event Viewer, Malicious Software Removal Tool, System Restore, Registry Editor etc., very quickly.
You can also add items to the program Favorites by right clicking on the item in the list, this can be handy, for instance, you applied a tweak but do not remember, so if you add it in your Favorite box you can see that earlier you tweaked a setting. Click on Favorites and you see the list of added Favorites, now clicking on Edit Favorites will pop-up the corresponding windows from there you can sort the list just select one and drag up or down, you can also delete items.
Advanced System Tweaker works with Windows XP, 2003, Vista, 2008 & 7 (32 & 64 Bit)
Download : Advanced System Tweaker