If you are Apple fans, you might have been familiar with the usual steps to transfer videos from PC/Mac into your ipad or iPhone. Connect your iOS device with computer and then sync the video to your iOS device via iTunes. If the video is not readable by your iOS device, you need to convert the video to compatible format first.
Ever wished that you can watch video on your computer without the need to use iTunes? Ever wished that you can put any video in any format on your iPad iPhone without having to convert the video beforehand? Ever wished that you can access the video library on your home computer even though you are far from your home? If your answer to these questions is yes, then stop wishing! Air Playit is the way to go.
Air Playit is a video audio streaming software capable of streaming your video and music on your PC/Mac to iPhone, iPad, via WiFi, 3G and 4G networks. By means of streaming, the software transfers videos straight from your computer to your iOS device over air without saving the files. Thereby, the videos will not take up the precious storage at all. With 320 different video & audios codecs built in, Air Playit supports streaming almost all videos regardless of the file formats.
To get it working, you need to do two things first. Install Air Playit server on your computer and install Air Playit app client on your iOS device. So that with the help of the streaming server, you can live stream the video from your PC/Mac to your iPad iPhone.
What can you do with the streaming server?
On the main interface, it will show you the port and IP address of the computer on which the server is installed.
Under the Permission tab, you can set access permissions after you well selected the video and music to share. Three permission levels are available: Admin, Kids and Public.
The Shared Folder tab is designed for you to add the video and music you want to stream. You can select content stored on your computer or from iTunes playlist.
You can add and manage the offline conversion task under the Conversion tab by clicking Add Video Conversion Task. This can also be finished on your iOS device.
Air Playit allows you to access the playlist via web browser. You can activate this function by clicking the "Web" tab. Air Playit supports M3U8/M3U playlist format. That is to say, you can use VLC and Apple QuickTime player to play the streaming video easily.
This free video streaming app allows you to set the output folder for the converted files. Just click Setting and choose a destination for the video & audio converted offline.
How to watch streaming video on your iPad iPhone with Air Playit?
Install the app client on your iPad or iPhone. It will interact with the streaming server and play the streaming video on your iOS device.
1. Air Playit supports automated server discovery on local network by Bonjour Service. You can also add remote server by specifying IP address. Now select the server on which the streaming server is installed.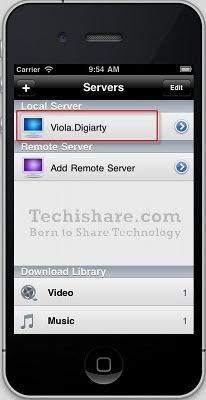 2. Browse the folders under the server.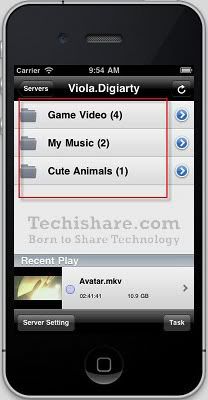 3. Click Play to watch the video you prefer. If the video format is not supported by your iOS devices, Air Playit will convert the video on the fly automatically. No need to wait before watching.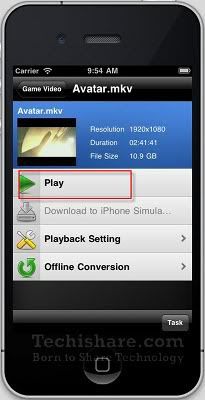 With this software, everyone can remote access their favorite video music files immediately, even miles away from home.
Live streaming is just one of the killer features of Air Playit. To take advantage of more features, please go to http://www.airplayit.com/.
P.S. : Thanks a lot to Viola of Digiarty for writing this wonderful article.