We all know that the folders present on a Windows desktop are in yellow color, this is not particular situation for Windows 7. This makes it tough to point out a particular folder among many others. Choosing the color scheme for your folder is an important decision you will need to make in order to improve productivity. You can locate your folders faster by throwing some external hints of deep colors and beautiful combinations which will make identification of folder easy and fast.
Folder Colorizer is a free software that lets you modify the color of your folders from the Windows Explorer Right Click Context Menu.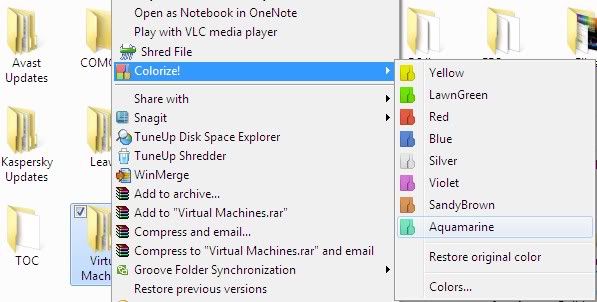 Just right click on a folder choose Colorize!, you will get benefit from already proposed colors, if you find them as strong colors, you might consider adding a lighter color. To do this, click on Colors from the Colorize! context menu and the software interface will present different options to add more personal colors.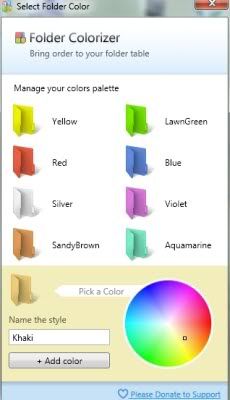 Features of Folder Colorizer :
You can mark folders with various colors as to make them visually more striking.
Circular color grabbing tool to import other colors.
The modified folders are visible through Windows Explorer
Context Menu integration
Easy restore original color
On the first use of Folder Colorizer, a free activation is required. Just enter your email in the corresponding pop-up window and then it asks you to send a tweet which can be disabled. Also, for some people this software may not work smoothly, like after changing color of one folder and if you try to change the color of another, it won't work. Because, the process of Folder Colorizer is hanged and you need to end the process in Windows Task Manager and then you have change the color.
As we said, colorizing folders is very important to find and access essential folders very quickly by making them stand out from other folders. So grab your favorite color and apply it to your folder. You'll be glad you did. Download Folder Colorizer from the link below.