Crisis Aversion Tool (CAT) – A Package of Solutions to Common Windows Errors
When it comes to fixing some common windows problems or to adjust settings then going through windows control panel and searching the right section can take time and some time its difficult especially for new windows users, those who switch to windows from other OS. As every problem has a solution, there is simple solution to this crisis situation. It's called Crisis Aversion Tool (CAT), which is a collection of solutions to some common PC problems.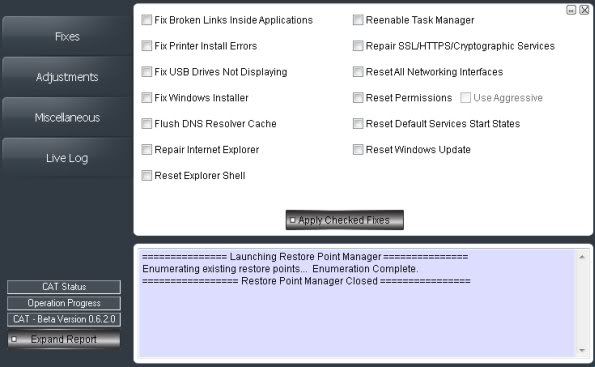 Crisis Aversion Tool (CAT) is a portable application, thus it can be carried on a USB key for maintenance purposes on other pc. It has an easy to use tabbed interface, where all sections are clearly marked for their use.
On Windows a user may experience many problems, like a problem where browser crashes or runs very slowly, Task manager getting disabled after a malware attack, or broken links etc… Fixing all these problems is very simple and this can be done via a single interface of Crisis Aversion Tool (CAT). Also in case of suspected malware file is found on the PC then this can be easily uploaded to Virustotal via built-in feature. Just click on Miscellaneous and use Upload Files To VirusTotal and also in this screen you have other features like Taking Ownership of a File/Folder or  go to Microsoft FixIt Solution Center etc.
Sometimes is necessary to adjust the screen resolution to make the monitor display fit correctly on the screen for video or gaming purposes. Although this is possible by going to Appearance and Personalization, on Crisis Aversion Tool (CAT) it is much easier. Inside Adjustment section resolution can be found easily and tweaked. Also the user can fix Flash Player and Manage Restore Points such as creating a new restore point or delete an existing restore point.
Complete Listing of Functions
Windows Fixes

Fix Broken Links Inside Applications
Reenable Task ManagerFix Printer Install Errors
Repair SSL/HTTPS/Cryptographic Services
Fix USB Drives Not Displaying
Reset All Networking Interfaces
Fix Windows Installer
Reset Permissions
Flush DNS Resolver Cache
Repair Internet Explorer
Reset Windows Update
Reset Explorer Shell

Adjustments (Tweaks)

Decrease Menu Show Delay
Change Screen Resolution
Disable Desktop Cleanup Wizard
Restore Point Manager
Fix Shutdown
Fix Flash Player
Enable Windows Installer in Safe Mode

Miscellaneous

Take Ownership of File/Folder
FindThatFile.com
PCI Database Lookup
Windows Update Error Codes
Upload file to VirusTotal
Microsoft FixIt Solution Center
Crisis Aversion Tool (CAT) is freeware and supports both x86 and x64 versions of Windows (Xp, Vista, 7). As Crisis Aversion Tool is in beta it might not work correctly on some PCs, then you can make use of the live log monitor errors during the use of this software.
Download : Crisis Aversion Tool (CAT)