DéKiBulle Player – A Free Light Weight Portable Audio Player
We find many music players concerning Windows OS on the net, some are advanced and others simple. DéKiBulle is an audio player that use directly the arborescence (tree view) of the directories in which audio files are stored to play music. DéKiBulle lacks many features when compared to others and this is for simple reason, that is to make the player fast and light on the system and then to make DéKiBulle portable.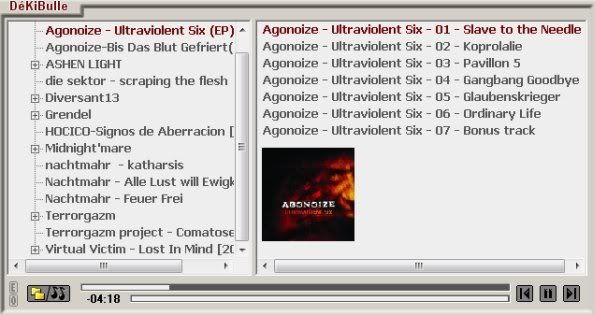 The main interface of DéKiBulle player looks like Windows Explorer, the left window is the folder tree that you have added and on right side there is playlist. DéKiBulle supports a large popular music files format. Installation is easy and DéKiBulle will minimize to windows systray. Right click on its icon (can be set to animate) in the systray and choose Options then a windows will pop up which act like the stronghold of DéKiBulle where various preferences can be tweaked, like DékiBulle skins, Autostart with windows and to autoplay music At startup. Album Art can be dragged and dropped on any free space in the right window. The equalizer can be accessed from the button E on the main window left side located on bottom corner. It is a 10-band equalizer, to reset, simply click on the "0".
Once a directory is added from the option Folder in DéKiBulle, then we can set DéKiBulle to add new files to its database automatically. However, it has no sorting option, i.e. to sort by artist, or albums, in fact there is no ranking at all. Simply add the music directory and the software replicates the folder structure as they are, and will not try to sort by artist, album. This is handy when ID3 tags are not complete. DéKiBulle also comes with a Tag Editor, to activate it just select some music and right click on it to display a small popup menu from which one can open the MetaTags Editor, save a playlist… With DéKiBulle it is also possible the customization of the of the names of songs displayed and this can be done from Song Names option.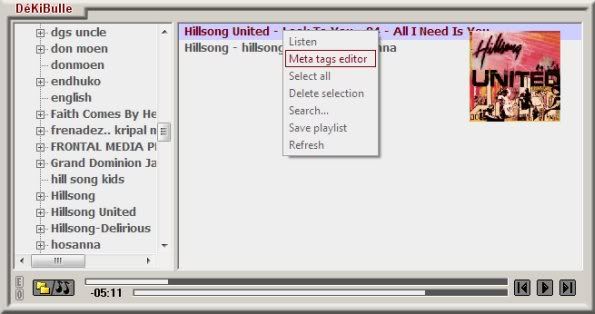 To make a playlist is simple In the left window, choose a music folder then right click on it and choose Add In Playlist so the songs will be added to the current playlist in the right windows.  So once you have the songs you want to save in your playlist in the right pane, right click>> save the playlist(.m3u). Then to open a playlist: Right-click the Folder/Music Notes icon and open a file. To repeat a folder you have to charge only the folder into the playlist and activate the option "Loop playing" from the systray icon.
Here are some key features of DéKiBulle:
Multiformat (MP3, WAV, OGG, WMA, MPC, M3U, PLS, AIFF, MP2, MP1, CDA, + FLAC, MID, WV…).
Internet stream (URL in m3u or pls file).
Meta Tag editor (MP3, OGG, MPC, MP2, APE, mass edition).
Command lines supported ("dekibulle.exe /play /prev /next /quit /open /skin:xxx /show")
AudioScrobbler function for the site http://last.fm.
Compatible with the function MSN "Current play".
Hotkeys support: You don't need to go clicking around to find the window or icon when playing during some work on windows
DéKiBulle player has minimal interface (don't even have minimize, maximize and close buttons), yet with many features that are available with many audio players today. All of its power is in the right-click of its tray icon. So, if you are interested to try this minimalist audio player, then download it and try it now. It's also portable!
Download : DéKiBulle player