As lovers of Linux we all love to test various distros. But the problem with the usual way is that we can only have one linux distro on CD/DVD/USB at a time. We can't have a many linux distros on single CD/DVD/USB, so that we can use the same CD/DVD/USB to install or test multiple linux distros. But, that's the usual way and as always there will be unusual (or new) ways. Thanks to YUMI, now we can create a multiboot linux live USB easily.
It looks and works similar to the infamous Universal USB Installer. Creating Multiboot Linux live USB is very easy. Just follow these steps
Download and run YUMI.
First step is to select your USB drive from the drop down.
Once you select the drive, YUMI will list lot of Linux distros in a text box. Select the Linux distro which you want on your USB.
After selecting the respective Linux distro, you need to provide the ISO image of that distro. If you already have the ISO image on your computer, then click on browse and provide ISO image. Or else you can check the Download the ISO option, to download ISO.
After adding the path of ISO to YUMI, click on create.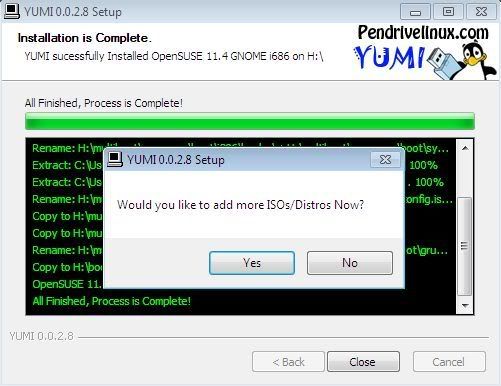 Now, YUMI will create live USB from ISO. After finishing creation of live USB, it'll give you an option to add more distros to live USB. If you want to add another distro to live USB, then select Yes and repeat the above 5 steps again, this time by giving the ISO of another distro. In this way, you can add as many distros as you can (only limitation is the size of USB) to the live USB.
In this way, I have created live USB which has Fedora, Ubuntu and OpenSuse. Now I can test all the three distros using same USB, without needing to format or create different live USBs for different distros.
Not just Linux distros, you can even add multiple Antivirus Rescue CDs like AVG, Avira, BitDefender, Kaspersky, Acronis etc and not only that you can add system partition and diagnostic tools like GParted, Memtest, OphCrack, RIP Linux, UBCD, Hiren's boot CD etc. You can indeed add Windows 7/Vista installer that list.
Overall, YUMI is the best and most complete multiboot USB creator, with which we can create live USB containing multiple Linux, Window 7 and Vista USB installer, Rescue CDs, partition tools etc. YUMI is a must have tool for everyone.
Download : YUMI