Tracking hard drive space is tough, especially if you are a download addict who test lots of new softwares like me. I was little confused when I saw sudden 10go loss of space, that means I had 10go/gb files somewhere on my Windows hard drive. I tried cleaning the junk files with known software but it didn't help me to regain that space. Windows System Restore is supposed to keep a few GO/GB of space for restore points, but it can work weirdly sometimes and allows the backups to grow without bounds. So, I went to System Protection Properties/ Turn off system protection for drive C, even this didn't restored the space. So, I started to search Google for hard drive space investigator and I found FilePro which is free for Home users. So, I ran FilePro and I saw big squares building up quickly telling me visually that those are the bigger files in my system. Files are generally grouped according to their system folders, which is why we see multiple files of the same kind next to each other.
Graphical representation of FilePro makes it easy to understand. FilePro goes further and proposes to navigate in this representation, with an automatic zoom (top right of the screenshot), right click on any space will give you the full path with more options, such as Open/execute Files, Zoom, Open File Location (Locate In Explorer), ScanFS here (has to be installed and is provided from the same softmaker)… We knew the representation of files on the hard drive is in the form of rectangles of sizes proportional to the disk space used by it. The zoom feature is handy to locate even very small files.
FilePro also use Tree Size representation, detail column shows the files in the directory, the file size and a percentage showing how much space that file is occupying within that directory. The top view is your typical file browser, but it is displayed in descending order with the largest files at the top. Click on the right border of a file in the Details section then choose Open Folder, and that item is shown in the Windows Explorer. Switching from Graphic Representation to Tree Size Representation is easy.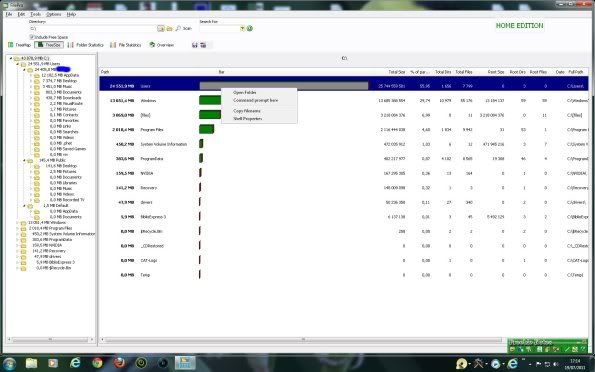 Now, coming back to my problem and as shown in the photo it was easy for me to identify those 5 files that were taking in total 10go. FilePro also support the search function so typing "temp" has colored those files in green and actually the 10go files were temporary files, but apparently cleaning windows didn't deleted those files, which means that they are difficult to delete or hanged by the system.
It comes with a very useful feature. You scan save the snapshot of your current hard drive space and its file allocation. After few days, you can use it to compare and see which files were newly added and how much diskspace is consumed by those new items. Snapshots that can be reached from Tools tab. So I scanned my second partition and saved another snapshot. Comparing both snapshots revealed to me the existence of 10GO files identical to my earlier discovered temp files. After deep verification it appeared that something went wrong with my backup tool that was scheduled to make a backup and those 10GO + 10GO were created and couldn't be deleted because they were kept by the backup software. Finally, I shut down the backup software and used TuneUp shredder to delete those files and regained my lost space.
FilePro also supports WinMerge. Click on Options tab and choose External Applications Setting and point it to WinMerge installed directory.
FilePro can also be installed as portable and this can be decided in the beginning by clicking on Manual Installation. There is also a possibility to store settings on different location than Application Data, to modify this click on Advanced and there is a possibility to Choose Roaming Profile.
FilePro is wonderful application which comes very very handy in analyzing your hard disk space, especially when junk cleaners won't work. It is one of the easiest to understand and its compatible with other external softwares which makes it more powerful. It's more than just a mere disk analyzer. You can download it and find more information from the link below.
Download : FilePro