Get Free Serial Number of MAGIX PC Check & Tuning 2011
A month ago, I've mistakenly told you that MAGIX PC Check & Tuning 2011 has become freeware. But, later a dear friend of ours has emailed us telling about the mistake. It seems MAGIX develops both free and paid versions of their PC Check & Tuning product, but as I am new to their product-line and also their names were also same, I got confused. Anyway, thanks to our dear friend for correcting me. Not only that he also gave me link to the promo page (which isn't shared by anyone) through which we can get the paid version for free. So, before letting you know about promo, let us see a bit about the paid version of MAGIX PC Check & Tuning 2011.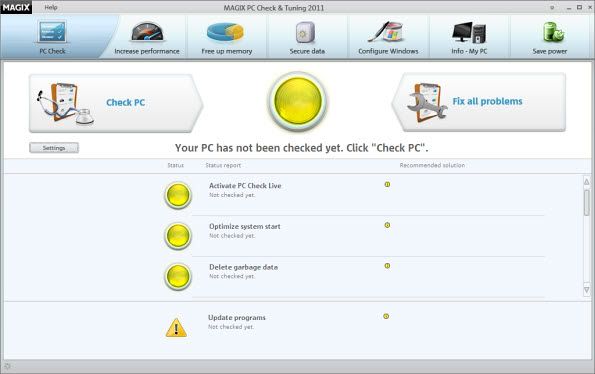 MAGIX PC Check & Tuning 2011 is a comprehensive cleaning and tweaking utility for Windows. The free version is restricted to cleaning and basic optimization only, whereas the paid version can clean, tweak and optimize Windows. Please look at our previous article to see the cleaning and basic optimization features. In this article let us see some interesting features of MAGIX PC Check & Tuning.
Under Increase Performance tab, on left-pane, you'll see a list of functions which when configured/operated can help you increase the performance of your system. You can easily configure the startup entries. All the startup entries are categorized into Important and Optional categories. If you are confused whether to keep/remove a startup entry then you can look at behavior bar that shows how other customers behaved, so that you can take decision correctly. From this Increase Performance tab, you can do several other tasks like configure (enable/disable) services, Defragment drives, registry, clean registry, update drivers and internet tuning.
The next tab, Free up memory, has dedicated tools to clean unnecessary files and free up hard disk space. From here you can clean unnecessary garbage, uninstall programs, remove internet traces and shred data. An interesting feature here is the Data Manager. The data manager will list folders and files, sorted by their size.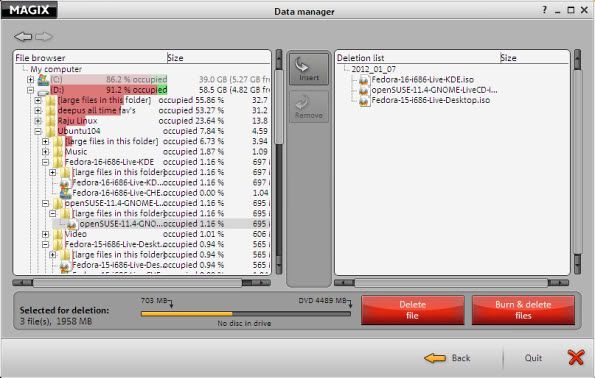 Usually, many of the files (music, software installers, videos etc) aren't frequently used by us. But, we just keep them on our hard drive so as to access them quickly when required. If most of your hard drive is occupied by such files, then it's better to backup them. Data Manager lets you do it easily. It lets you delete unnecessary files at once or burn them to CD/DVD and then delete them from hard disk, so as to free up hard disk space.
Now, let us see Configure Windows tab. From here you can change default Windows settings and control functions that otherwise are buried deep down inside Windows. For example, you can manage/change the default applications that are set to certain file extensions, manage the entries of New sub menu in context menu etc. You can also change animation effects, start menu and taskbar settings etc.
There are several other interesting features that lets you know hard drive temperature, real-time CPU and RAM load etc. Also, MAGIX PC Check & Tuning 2011 comes with 3 additional power saving profiles that you can use along with the default power saving profiles offered by Windows.
So, as you can see, MAGIX PC Check & Tuning 2011 is a comprehensive collection of many cleaning and tweaking utilities. The free version doesn't have the ability to tweak, it can only clean. So, want to grab a serial key for free? Then follow the link below :
Promotion Link : www.magix.com/pcct-2011/
Download : MAGIX PC Check & Tuning 2011
P.S. : Thanks a lot to our dear friend (who wished to stay anonymous) for sharing all this information with us. Also, do note that MAGIX PC Check & Tuning 2011 is not the latest version. 2012 version was released sometime ago, but still MAGIX PC Check & Tuning 2011 works well with Windows XP, Vista and 7.