Get rid of unwanted files/folders with Unlocker
Have you ever got problem with deleting a file and spent a lot of time in deleting the file and still ended up in a failure? Such as  I say that I was one of you who had the same problem. Folders that are created after O.S. installations, viruses etc won't let you delete them.  So you can't delete the file directly, it would still remain and give you an error,  something like this :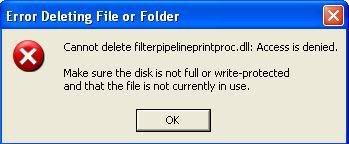 or these,
currently being used by other program
shared file violation
make sure the disk is full or write protected
I have got a solution for this type of problems. It is a simple software that gives you the power to delete almost any thing that isn't deleting. It's called  The Unlocker. Its a free software that can be downloaded from here.
These are the simple steps out to delete any unwanted file :
Install the Unlocker on your system.
Right click the file you want to delete and Select Unlocker.
In that you will find the processes associated with that concerned file just kill the processes and select delete from the drop down box available.
Hey you just got rid of an unwanted file!

That was just one software here is another one i found out
It is called the Unlockme.
It is almost similar to Unlocker in its functionality that is available free of cost too.
It has same usage also.
You can download it here