Spider Player Pro is multi functional audio player that supports wide variety of audio file formats. Among other things it is my favorite single manager with support for categories and comments so you can have your Favorites organized as you want. But its main functions are music related only. With Spider Player Pro you can discover thousands of radio stations worldwide with a quick and easy search in radio Shoutcast and Icecast right directories in Spider Player.
Spider Player Pro sound quality is exceptional. Just adjust the equalizer to "metal" and you will get the sound you prefer. The internal processing of its 32-bit adds additional clarity and fidelity playback, even if your sound card is not capable of producing sound in this resolution. Looping effects produce a soft subtle transition between the runway.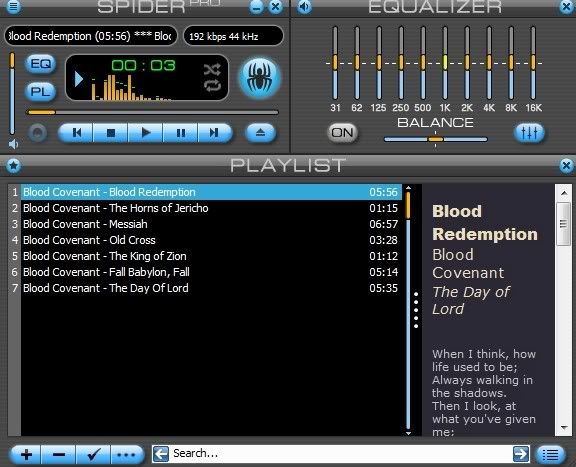 Features of Spider Player Pro :
Crossfading support
Audio formats supported: MP1, MP2, MP3, MP4, M4A, MPC (MP+, MPP), AAC, aacPlus, AC3, Ogg Vorbis, FLAC, Ogg FLAC, TTA, APE, WavPack, Speex, WAV, CDDA, WMA, MID, RMI, KAR, S3M, XM, MOD, IT, MO3, MTM, UMX.
Converter – support for transcoding all supported audio formats
CD Ripper – rip CDs to any audio format
Full Unicode support
Internet Streaming – stream files from Internet or LAN and listen to Internet radio
Powerful tag editor – edit ID3v1, ID3v2, Vorbis, FLAC tags and WMA metadata
Skin support – vary the player's look by changing skins and their color tones
Customizable local and global hotkeys – any hotkey can be assigned to any program's action
CD-Text support, CDDB support
Ten-band Equalizer with Preset Editor
Icons Sets – have a separate icon for each audio file type
M3U and PLS playlists support
Support 5.1/7.1 Surround as well as conventional stereo / mono audio files.
Spider Player Pro supports Winamp DSP plugins and can be used on Linux with Wine. Not only you can use Spider Player PRO on your USB flash drive (during install choose Portable version) and there is even a special version for U3 Smart drives. Spider Player Pro 2011 comes to permanently license free Windows XP, Vista, 7 32-bit / 64-bit because the Publisher comes to stop its development and undertakes to reimburse the recent purchasers of Pro software. The developer says –
Spider Player is no longer being developed. You can still download and use it, though. Please use the following license key to unlock all the PRO features: 27U3Z909I95-KK147A893S4K6Y1M0F-780363812. Spider Player PRO is completely free now, never mind the EULA.
Even though it is no longer still developed, the so far development made is remarkable.
Download : Spider Player Pro