Review :
The Windows clipboard is a property that can be used for short-term data storage and/or data transfer between documents or applications, via copy and paste operations. But this has a limited power. On most operating systems you copy one item, it gets stored on a clipboard, and is immediately overwritten when a newer item is copied. Retrieving previously copied images or text typically requires a third-party app. Pc users often search for a clipboard manager which supports multiple cut and paste transactions. Now its time to look at Global Clipboard.
Installation is easy without any extra effort. The program minimizes to system tray and can bet set to start with windows on startup. The program allows keeping all data inserted in a clipboard for the following manipulation with them. It can also display a convenient popup that helps you preview the contents of the clipboard. With the image preview, you also have the option to save that image to your computer in a variety of formats – all without needing an extra image editing program. The program can analyze contents of a clipboard and start applications for its processing.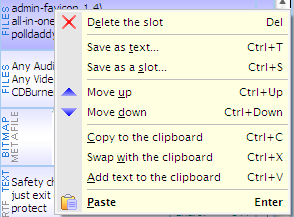 With each slot it is possible to execute set of operations. To see their list, press the button from the left of the required slot or show the popup menu (the right button of the mouse). To execute any operations when the main window of the program is inactive or hidden, choose for them hotkeys. It can be made in the configure window on the Hotkeys page. You can quickly paste contents of any slot into the current document. Use double click by the mouse on the required slot. Also you can make a list of files and folders, just simply select and copy necessary files and folders, then choose menu item Save as text. And after that you have the list of the directory.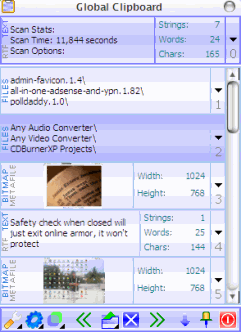 The majority of slots have the zoomed viewing. When the mouse cursor looks like a hand, you should press the left mouse button. The window with the zoomed image or big amount of the text will appear. Release the left mouse button for hiding a window of the zoomed viewing. There is a slot saving option which also can be edited further by calling Sets Manager, this will help to edit the slot name and to add some description regarding the edited slot so that finding it back will be easy.Global Clipboard offers also a separate window where the program can be configured as one desires. Such as Adjust slots numbers, Manage hotkeys and Text/Image windows size.
Global Clipboard Features :
Automatically saves content which has been cut or copied to the Windows clipboard for later use.
Paste stored items automatically into any document or software that normally accepts clipboard data with a click of the mouse.
Hot key assignments for auto pasting with the touch of the keyboard.
For the text and graphic information there is a zoomed viewing.
Save and restore all information used at the previous session.
Optimized for maximum usability while minimizing CPU cycles.
Play a sound at copying
Open links in browser and Create messages for e-mail addresses
The program shows contents of a clipboard:

pictures (Bitmap, Metafile)
texts (Plain Text, Rich Text Format)
copied files and folders
sound fragments
information on presence of other binary data.
Global Clipboard gives the useable well defined and good looking interface for managing clipboard activities in efficient and reliable way.  Its well designed parameters will allow you to adjust the program to considerably increase productivity. Global Clipboard will turn your underpowered windows clipboard into a strong tool! Download the trial version and witness its power.
Download : Global Clipboard
Global Clipboard Full version exclusive for all TechIShare readers :
Elasticlogic, developers of Global Clipboard Manager has generously agreed our request to put this registration information on this page, available for one and all. Thank you Elasticlogic. And dear readers, you can download Global Clipboard Manager from the above mentioned link and use the below registration key to
register Global Clipboard Manager full version.
Registration name: Techishare Giveaway
License key: JKBP-GGWU-BCLP
Right click on Global Clipboard Manager icon from taskbar and choose About. Enter your registration details to activate the full version.