Internet search reveals some ways to hide or minimize active windows easily, but what about if we need to hide with one click these annoying icons, taskbar and wallpaper on the desktop during screenshot exercise or while video recording the full screen. trimDesk allows this from a single interface and with hotkey support to do the following and more :
hide/toggle Icons, Gadgets, Taskbar and Wallpaper
Start Applications with your Favorite Desktop Settings
Manage predefined Sets with various Desktop Configurations
trimDesk has a lite free version but also a pro shareware version that has more powers without any restrictions on how to use the program. During the installation user can activate the free limited version software or the shareware pro version.
trimDesk Pro features:
Save Clear Desktop Settings
Save Configured Sets
Save Visual Skin Settings
Save Hotkeys Setting
Running Sets on Startup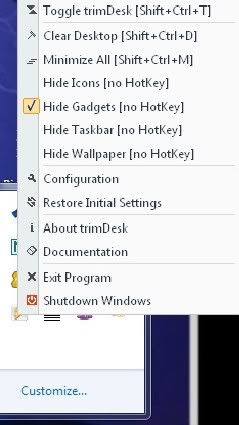 After installation the software will minimize to system tray and a floating tool bar will appear on the desktop. A Right click on the system icon will reveal the necessary default hot keys, if these combinations are not suitable then clicking on configuration will pop-up trimDesk Advanced Configuration interface from where you can change the hotkeys. The feature Toggle trimDesk will also allow to hide this floating bar by using the Shift+Ctrl+T combination. trimDesk users can call the bar at any time and can hide it from desktop.
 Other feature includes one click Minimize All (or Shift+Ctrl+M) to minimize all active windows. With one click it is possible to hide desktop icons, taskbar and wallpaper (choose the desired wallpaper free desktop color) using the Clear Desktop button or  the hotkey Shift+Ctrl+D. This is handy for quickly hiding important files from prying eyes. The Clear Desktop lets user to configure which elements to hide or to show with one click, so click on Advanced then go to Clear Desktop Settings and configure as you wish. This can be helpful when giving presentation or tutorial so that audience will not be distracted with cluttered desktop.
trimDesk also lets to shutdown computer even if the taskbar is hidden, clicking on the Shutdown Windows button located on the bottom left corner of the interface will pop-up the corresponding dialog menu from there is possible to shutdown, restart, sleep… windows as usual.
With trimDesk you can manage 5 predefined Sets with various Desktop Configurations. Sets can be configured for executing applications (batch files supported) or open files with miscellaneous desktop settings. Go to Help section to find out more.
trimDesk can be applied in different areas such as during presentations, video recording, seminars, taking screenshots etc. Download your free copy from the below link and upgrade to more powerful shareware version for more features at your convenience.
Download : trimDesk