iMacros is very helpful browser extension mainly for people who are slow at keyboard typing. This is how it helps you…
Usually to visit a website you have to type the URL of that website every time. There is nothing new in it because you know that typing URL is the only way to visit a website, but do you know there are other time-saving ways to visit a site. You can visit a site with a double-click, do you know that? This saves the time that you spend in typing the web address. If you are familiar with keyboard typing then this won't be a big issue. But if you are slow in typing keyboard, then this saves you a lot of time. For example, you a visit a site example.com 10 times a day. Typing example.com everytime is time consuming and boring. This is where iMacros come into play. iMacros opens a website with a double-click (you have to predefine that URL in iMacros ). Double-clicking 10 times is much better than typing 10 times. Do you agree?
iMacros is actually an event/action recorder for your web browser. For example, you want to record an event of visiting Facebook. All you have to do is, select record in iMacros and then visit Facebook normally by typing www.facebook.com in address bar, once the Facebook is loaded you can stop recording and save that event.

If you want to visit Facebook later, then you don't have to type www.facebook.com again, just double-click the iMacros event and Facebook will be loaded automatically, without manually typing the URL. So easy na?
iMacros supports all major browsers, Internet explorer, Firefox, Google chrome. iMacros is not only used to automatize visiting websites, but it can be used to fill forms and many more. One of my favorite task that I do with iMacros is viewing my Gmail (or any mail for that matter). To view my mails I usually do 2 things.
Type www.gmail.com and visit it.
Enter my login details (Firefox automatically fills this) and hit login.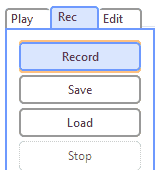 With iMacros viewing my emails are just double-click away! Firstly, I record the event with iMacros by following above two steps and save that event. From next time, I just double that event and iMacros directly takes me to my inbox. No extra work needed.These are only few uses of iMacros. With iMacros you can automate almost anything that you can do with a browser.