Monitoring file changes (create, delete, rename…) is important to track/know the the location of modification after the installation/uninstallation of software, as it helps to ensure the safety of Windows by tracking incognito and to revert the undesired malware invasion etc.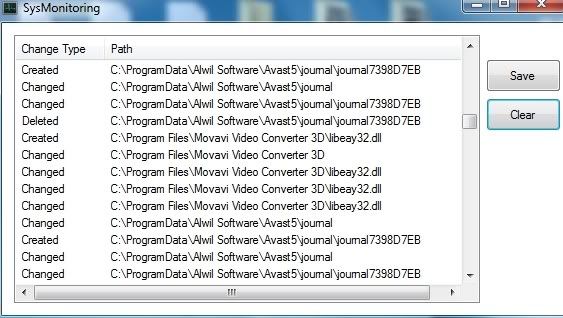 SysMonitoring is a handy little software that automatically monitors Windows system activity, which otherwise will be difficult for novices. Installation of the software is easy. A Right click on SysMonitoring sys-tray icon will reveal more options. Clicking on Setting will pop-up SysMonitoring Settings window and from there users can decide to monitor All Files (Renamed Files, New Created Files, Deleted Files), Specific Hard Drives, Folders or Files.
As you can see from the below screenshot, each action on Windows explorer like launching a program, surfing on the net etc will do the necessary changes to files and SysMonitoring will exactly show this process. Below the software interface you'll see a notification regarding the order of changes undertook (click on it to drag anywhere on the screen), the font of the message can be changed from Settings.
It is important to keep eye on what's going on Windows since the installation of software, as this can help you to remove left overs if the uninstall was not so successful etc. Also we do not have the habit to monitor other software like Antivirus that changes their files because they interact in real time with Windows and some have the privilege to connect to internet to download whatever necessary. Do notice internet browsing modify history on the fly files while surfing and register the modification in its database.
If you have a doubt on a notification, then click on it and this will pop-up the target file or folder. There are additional two buttons on the right side dedicated to Save a Log file as TXT and to Clear the interface from notification.
Features of SysMonitoring :
Easily monitoring Each changes.
Save each changes in log file for future reference.
Monitoring 2 drives at same time.
If you are worried about particular program and think that do connect to internet and create or modify files or folders than SysMonitoring can help in keeping eye on this activity. Download SysMonitoring from the link below.
Download : SysMonitoring