Monitoring network connections is important and some people will use to find information about unauthorized connections made by malware or by others while sharing the computer. Real Network Monitor allows you to capture Network Traffic and thus helps you to analysis up/down traffic, for keeping up with your network.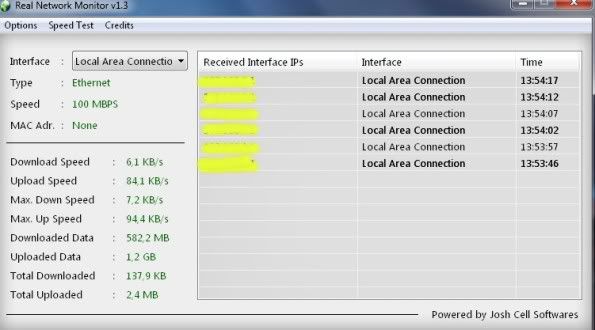 Installation of the program is easy and can be configured to run at start up. The Right part of the interface shows all IP connections and Left part allows you to switch from monitoring Local Area Connection to Loopback Pseudo-Interface 1 and also describes various data of your network :
Type / Speed / MAC Address
Maximum Download / Upload Rate
Downloaded / Uploaded data by connection
Total Downloaded / Uploaded data with program running
If you click on Options menu then by clicking on Interface Properties reveals some important information regarding computer internet connection properties such as IP address, Adapter property, MAC address and if there are several, then it is possible to switch from one to another. The changes will be reflected on Real Network Monitor main interface and collected data.
Real Network Monitor also has a Speed test options divided in 3 areas : 1MB, 512K and 256K depending on the connection type.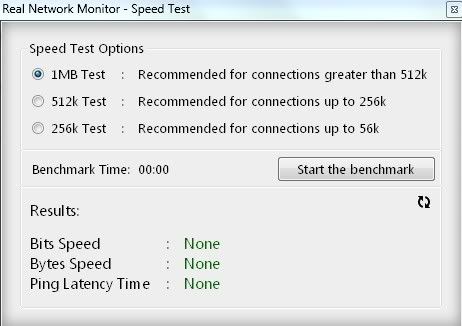 Features of Real Network Monitor :
Accurate Internet Benchmark Speed Test, and Ping Latency Time function embedded in the application
Auto-Update and Auto-Select the new connected interfaces, if internet is down in DialUP case
Consumes minimal computer resources, Memory / CPU usage always is lowest
Portable / Auto-Installable versions
Coded with maximum security features
Compatible with all adapters, including DialUP / Bluetooth / Wireless Connections
See the properties of the current Adapter, including DNS and IP Addresses
Save all data in a encrypted text file located in the root of EXE
See the local IPs and variations with connection by Time
Real Network Monitor  IP  is designed to stay quietly in your system tray or Always On Top and it'll  monitor your network connections. So, download Real Network Monitor (Windows XP to 8, Windows server 2003/2008/2011 Family, 32/64 bits, Requires .NET Framework v3.5) using the link below :
Download : Real Network Monitor