Play Online Music With GinoPlayer
GinoPlayer is another audio player for Windows. With Gino, you no longer need hundreds and thousands of audio files on your computer with all the inconvenience this may cause to your system especially for those who do not have a big hard drive or they listen to music on some occasions only. With Gino you always have a music library that you can access it online without storing files on the computer.
GinoPlayer  is a free software that you can install it in seconds (just 1.2 MB) and features a simple interface that anyone cannot find it difficult to use. Before install the user must pay attention since Gino Player will also install Babylon but this can be avoided by unchecking the right option. In order to run GinoPlayer seamlessly you need to install .Net framework version 3.5.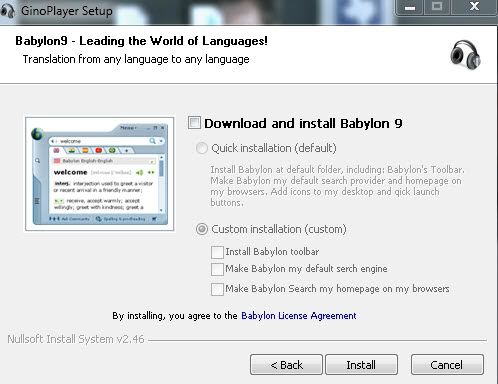 GinoPlayer has true search engine, fast, convenient and easy to use, thus allow you to play media files from multiple sources, you simply enter the title or name of the singer in the bar reserved for this and the program will take care the rest. GinoPlayer finds all the free tracks from various open sources in seconds. Gino not only plays those songs but also enable the user to to download them if necessary for future employ.
You can bookmark (favorites) songs, search for specific artist to create temporary playlist and play them in shuffle mode. There are no playback and track navigation controls; just a play/pause button present underneath the search results window.
GinoPlayer is a small music player that do not consumes a lot of memory and some will find it very useful under some situations where the need of playing music easily is necessary without search on the hard drive. Download your free copy from the below link.
Download : GinoPlayer