Staying tuned with other time zones is sometimes necessary if you rely on business contacts or have relatives outside your time zone. This makes contacts easier in order not to make mistakes while calling them. Windows supports additional time zone clocks but it is limited. The default way to add more clocks in Windows is to click on the Clock or Time on taskbar and then click on Change Date and Time Settings>Additional Clocks. Now check the box Show this clock and then Select time zone do the same for the second clock and then click apply and OK, next time when you click on the time you will get the additional clocks.
This method allows add two clocks, then how to get more clocks. Windows won't let you create another clock.
Qlock is software that can help in this situation and for more power there is Pro and Gold shareware versions. Qlock is a very simple world clock software which allows you to view the current time of over 500 cities from all around the world right on your desktop. The best part of Qlock is that you are not limited with clocks – you can show times from as many cities as you need and possibly you can cover all desktop with clocks.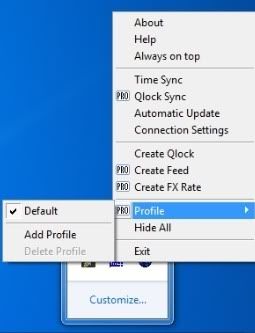 During installation you can choose to auto-start Qlock with Windows. As you will notice that 4 clocks are already shown on the desktop once you launch the software, they can be moved around the desktop each clock separately and if you hold the Shift-key then all clocks can be move together. To add a new clock, right click on Qlock's sys-tray icon and choose Create Clock. This will trigger a new window from which you can choose a new city and if the desired one is not shown then click on Add City and enter the required data. Two small icons will appear on the larger Qlock skins to show the city`s time difference to your current location and its DST status. Left click on Qlock sys-tray icon to hide/show all Qlock windows.
Now if you right click on any displayed clock you will get additional options such as Set Format (24 Hour, 24Hour/Seconds, 12Hour), Set Color (LipStick, Sunset, Beach, Leaf…), Set Skin (Small, Medium, Large), Delete… etc,. You will notice some other options like Attach Note, Set Alarm, Set Transparency etc., are for the pro version, so they are locked.
The Pro and Gold versions have more features such as:
RSS feed
Create FX Rate
Strike price alarm
Skins: XLarge, XXLarge
Internet time sync
Attach Notes
Multiple alarms / timers per city
Qlock Sync
World Map
Comparison between freeware and shareware editions can be found on their website.
Qlock is light software each additional clock asks around 150-200 KB so basically can run on small configuration. If you are regularly checking FX Rate, reading Feeds, then the Gold Version is for you.  Qlock is for Windows, iPhone and iPad. Download the free version from this link:
Download : Qlock