QuickSYS Informer For Quick PC Information
During the course of PC usage, we need to monitor some parameters time to time such as cpu, ram usage. Windows explorer has this ability but its far away from one click, unless we attach that function to some hotkeys, luckily we are served by some interesting freewares like QuickSYS Informer. It is a freeware tool that propose one click access to valuable information. This software has a nice interface and easy to read, we are well guided to retrieve important data.
QuickSYS Informer tracks the following :
CPU usage
Hard disk usage
Memory usage
Network adapter use
Battery life (for notebooks)
Tracks up to two hard disk drives
Tracks up to two network adapters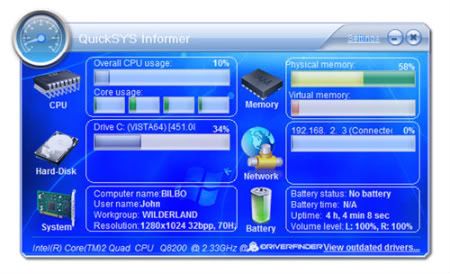 The QuickSYS Informer also gives a summary of your general system information such as the computer name, the current display resolution you're using, your computer CPU or processor, and others. This utility will enable you to track how much of resources is employed by a specific program, such using Internet explorer or launching Adobe PDF, so you will know how much CPU or RAM will be utilized. So basically if you find that a certain program using lot of resources in the background then you can terminate that program, but you have to go from Windows explorer since QuickSYS do not permit this kind of feature.
The QuickSYS Informer enables you to make the following setting changes.
Refresh rate – specify the rate at which QuickSYS Informer shows you changes in your system resources.
Hard Disk – specify which hard disks you want to monitor (if you have more than one).
Network – specify which network adapters you want to monitor (if you have more than one).
QuickSYS Informer is compatible with Windows 2000, 2003, XP, Vista and 7.

Download : QuickSYS Informer