Windows Registry is the location that the Control Panel will look for information when a user tries to launch an application. Normally, when everything is well organized just as a freshly installed windows then the job of getting information is fast, but as we know, repeated installation and uninstallation of applications will also leave undesired left overs which gets in the way of getting information from registry. So, the size of registry becomes bigger and unnecessary to the health of PC, the size is bigger because of left over or empty registry keys. Luckily, we have many registry cleaners that give the youth shape to the system. Registry CleanUP 5 Suite Starter Edition is free to use and has the shareware version that will permit the use of all included modules. The free version will let cleaning and defrag registry system in order to reduce the cluster for fast access and response to control panel when getting the needed information.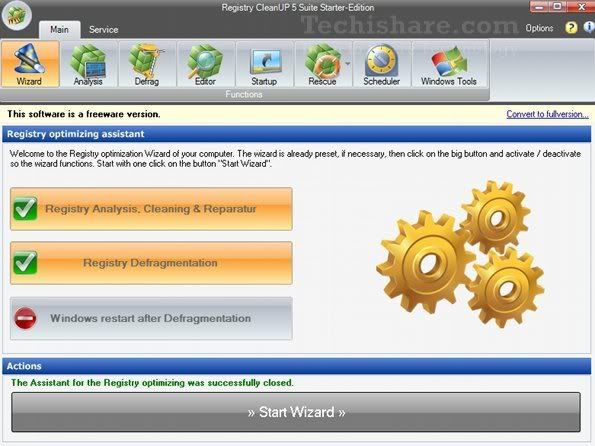 Also, some malware do changes to registry settings and over time all of those broken or unneeded data in the Windows registry are a hinderance to computer activity when trying to speed up, especially orphaned startup items that is there to consume extra memory. This results in a net loss in performance together with BSOD, constant reboots, crashes and finally format/install windows, which is not a pleasant experience at all.
Registry Analysis
Registry CleanUP 5 Suite Starter Edition will take a backup snapshot before cleaning registry, thus the roll back (if needed) is easier, plus the software lets the user to choose which registry keys to be remove and the category to analyze such as Applications setting, Files type, ActiveX, OLE and COM… better there is Analysis Exception which is located in the bottom left corner in the Analysis interface, clicking on this button then a new interface will come up in order to edit the rule of exception in which case the scan will ignore those sections of registry system. If you want this way of solution, you can ensure that no valuable information inadvertently gets deleted in the process. This is handy if you use the 1-click Wizard that will do cleanup and defrag and in this case you decide what will be cleaned by the wizard.
Registry Defragmentation
The Registry Defragmenter is also a nice feature in the free version. Clicking on start will trigger the analysis of the current registry then after compression user will see the gain in percentage, the computer should be restarted for the new settings to be applied.
The Shareware version will let access to:
Scheduler
Windows Tools
Startup Manager: Better functions, like Add/Disable/Edit program
Details messages on Registry Analysis
Registry Observer
Create/Change program protection
Another handy tool is the Startup module which will list all startup items. From this interface it is possible to add a new item as startup program or to delete which handy in case is a suspected malware program. The function "Disable item" is preferred for windows programs over delete function, in this way will no longer start automatically, but can be restored at any time to its normality. All these options can be activated through a pop-up menu when right clicking on a startup item.
Registry CleanUP 5 Suite Starter Edition is designed to be user friendly and quick access to available sections through a tabbed interface where every functions are well presented and there is no way to get lost in this corridor.
Download : Registry CleanUP 5 Suite Starter Edition