Remove Malware And Repair Windows With UVK (Ultra Virus Killer)
Many times we see people saying that their system has been infected by viruses and their antivirus is able to detect them but it fails to remove the infection. This is a usual case with Windows. Few malware will be tough to remove and we need specialized tools to remove those viruses. Ultra Virus Killer (UVK) is one such tool that helps you remove tough malware.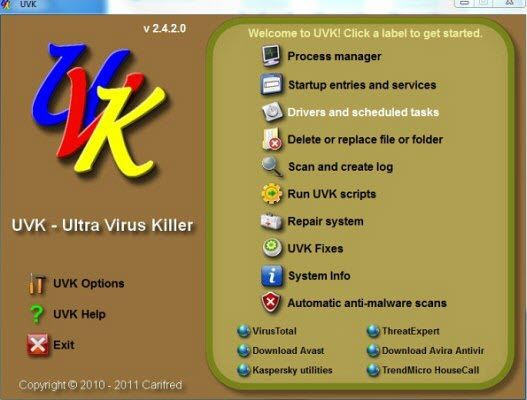 The interface of UVK is clearly guided you will have no difficulties in exploring all functions. Hover the mouse on a section and a small pop-up window will inform the user what to expect. To get familiar with UVK click on UVK Help. UVK offers several useful options like, you can add Delete With UVK to the right Click Context Menu from UVK Options located on the left side of the interface and if you are an expert then you can also Create UVK Commands Script. Now, let see the modules of UVK.
Process Manager and Startup Entries And Services: Both has separate window you can click on each option. It'll list all processes except the critical ones (that are needed by Windows). So, in this case UVK allows you to kill all the listed processes, to stop the malware activity so since the critical processes are not listed and this won't shut down the computer.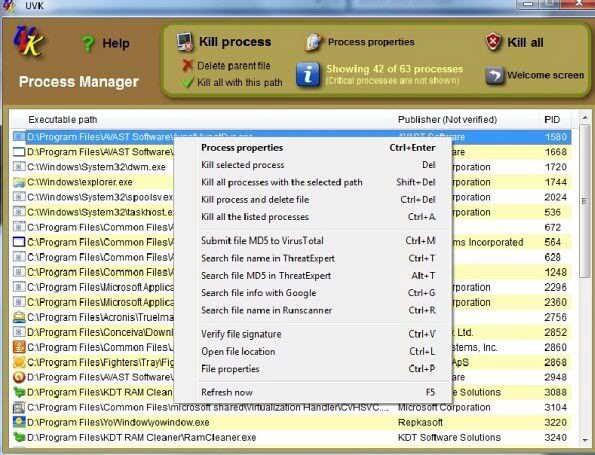 Right click on a process or Startup Entries or Services and you will see many options like Kill, Open file location, File Property (Hotkey CTRL+Enter), Submit File MD5 to Virus Total etc.
Drivers And Scheduled Tasks:  This will help to see if Virus, Rootkits or other Malwares are not there acting as system drivers or tasks. From this interface via the right click menu you can delete a task or driver and the corresponding file.
Delete Or Replace File Or Folder: This is handy if an infected file/folder refuse to get deleted, and also from this screen you can replace Windows corrupted files if you have clean ones.
Scan And Create Log: This section will create a report (UVKlog.txt) that will help users to disinfect or repair computer. You can select some area to scan by first clicking on None and then clicking on desired entries. If you choose not to verify the file signatures, UVK will check the Microsoft files based on the version resource info. This will reduce the scan time, but it doesn't ensure the authenticity of the file's publisher.
Run UVK Scripts: It is very useful to disinfect computer, you can paste lines from the UVK log or enter custom UVK commands. On the main interface, there is Insert section that gives some script to run. Click on each one to get the idea on what will be executed.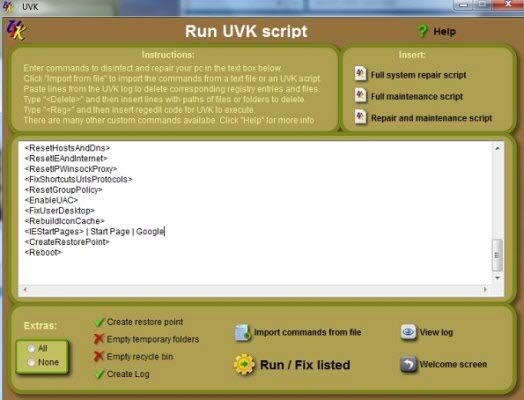 For instance Full system repair script will Reset Hosts And DNS, Reset IE and Internet, Fix User Desktop, Rebuild Icon Cache… You can also import other scripts from this link :
Repair System: Useful fix solutions are there here. To run a fix, just click the corresponding label or icon. Click on More Fixes (will open UVK Fixes) and you'll see several new options there, like Fix And Protect The File Extensions, Run a program or open a Web link. Now if you look at the bottom screen you will see clear fixing solution list (Fix Windows Sidebar, Fix Desktop Icons and Context Menu, Fix WMI & The System Restore…) above this windows there is two drop down menus such as Enable & Run (Select) on the left side, if you look to the right side there is Toggle Enable/Disable so just look there for various options.
System Info: This section shows information that can be very useful specially if you're going to reinstall windows or if you need to diagnose a performance or hardware problem. There is also an option Export to HTML
Automatic Anti-malware Scans: Here we'll see several well-known malware removal programs : MalwareBytes' AntiMalware, SuperAntiSpyware, Hitman Pro, Kaspersky TDSS Killer and Combofix.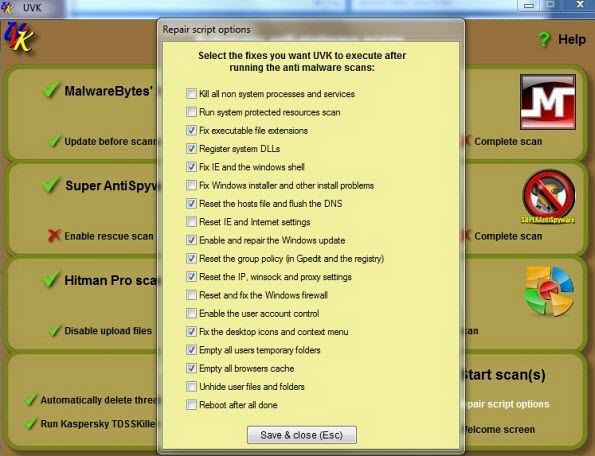 This section automates the scans with the mentioned anti-malwares. The threats found with these tools can either be automatically or manually deleted. To set this option, check or uncheck Automatically delete threats found. Click on Repair Script Options and ask UVK to carry other fixes after deleting malwares from Windows.
Ultra Virus Killer (Windows XP/Server 2003/Vista/Server 2008/7, 32 and 64bits) is a small sized utilities collection and also has a portable version So, go to the below link and download a copy.
Download : Ultra Virus Killer