Review of Advanced SystemCare 5, Free Version
Iobit's Advanced SystemCare (ASC) is a popular system optimization software for Windows. Yesterday, Iobit has upgraded both versions of Advanced SystemCare (ASC), i.e. Free and Pro. All new Advanced SystemCare 5, comes with some new features and many improvements. So, without wasting any time let us quickly take a look at the new features of free version of ASC 5.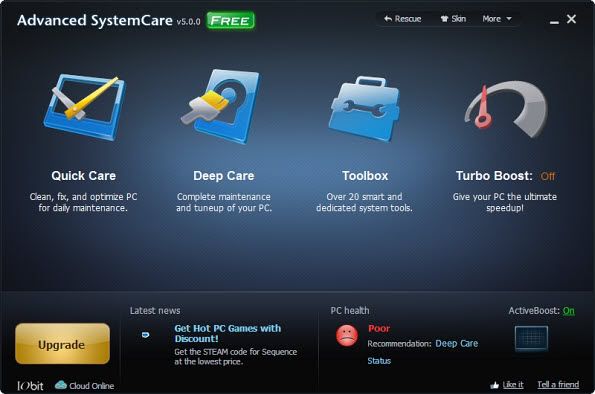 Installation :
Installation is straight forward and simple. But, do note one point. If you are installing ASC 5 on a system that is connected to internet, then you'll see Ads. At the last step of installation, Iobit will recommend you other products. If you like the software then click on Accept and install the advertised product. If not, click on Decline or Skip to finish the setup without installing the advertised software.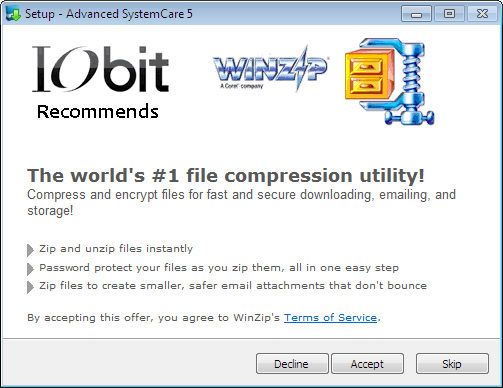 Interface :
There aren't much changes made to ASC 5. The interface of ASC 5 looks very similar to ASC 4. Only changes that I've seen are made to the main interface and the Toolbox.
Only small changes are made to main interface. ASC 5 will show you the health of your PC and it will also give recommendations to improve performance.
The performance monitor of ASC 4 is now removed.
So, if you want to check the status of your PC, then click on the link called Status, which is in PC Health block in main interface. It will show you the current status of your PC.
New Full Mode Interface for Toolbox :
Toolbox is a collection of more than 20 different optimization tools. In ASC 5, a new interface called Full mode is introduced. This full mode interface will give you quick access to all available tools from one single window.
New Features :
ActiveBoost :
ActiveBoost is a system resource manager. It constantly runs in the background and improves PC performance by boosting inactive processes etc.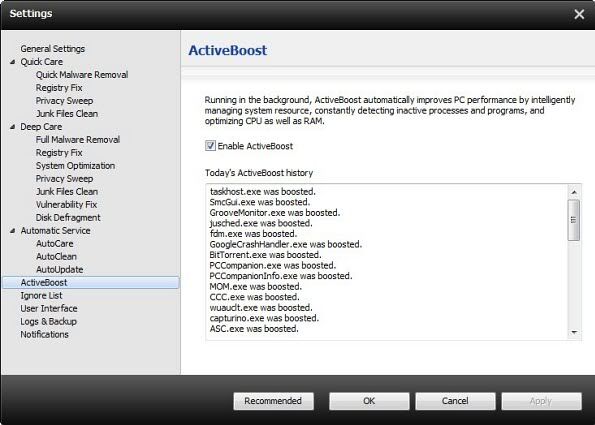 Cloud Updates :
Definition updates to ASC 5 are now served in the cloud. So, no need to download definition updates everytime.
Turbo Boost (Improved) :
If I can remember correctly, Turbo Boost is a paid feature in ASC 4. But, in ASC 5, Turbo Boost is available in the free version itself. Making Turbo Boost available in the free version is really the best move made by Iobit.
Also, Turbo Boost is improved in ASC 5. It now offers two profiles, one is Work Mode and the other is Game Mode. Game Mode frees up more resources than Work Mode. So, choose the desired option depending on your requirement.
Other features of ASC 5 :
Quick Care – Fixes shortcuts, invalid registry entries, browser history, junk files etc

Deep Care – It has all the optimization techniques of Quick Care, along with Registry and disk defragmentation, System and Startup Optimization etc.

Toolbox provides 20 different tools like – Uninstaller, Process Manager, Driver Manager, File Shredder etc.
Conclusion :
Advanced SystemCare 5 is a nice blend of legacy system optimization techniques and latest technologies. Addition of Turbo Boost and ActiveBoost has just made it even more powerful.
Download : Advanced SystemCare Free 5