In Windows 7 the Save dialog box offers variety locations to save files and are enumerated on the left side of the box. In order to save, let us say a picture that we find interesting on the web page we right click on it and choose Save Picture As. When I tried to save the file on my desktop I saw that Save to desktop option under Favorites was missing on the left side of the box.
In order to get back the desktop option, right click on Favorites and choose Restore Favorite Links.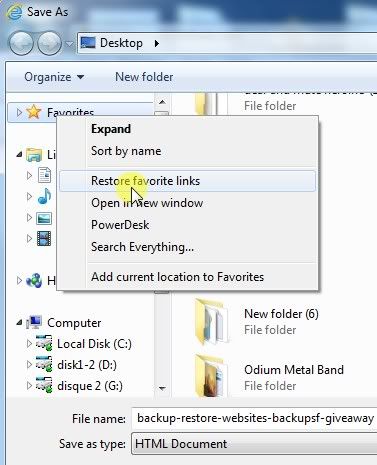 Perhaps you can also double click on Favorites this will open the location on the right side of dialog box and then click on Desktop. Now when you try to save a file you will see the desktop option listed under Favorites.
If you are in Windows XP, TweakUI tool will help in this direction from Common Dialogs-Places Bar.
Download : TweakUI
If you wish to customize Windows Places Bar then Melloware PlacesBar Editor is a good choice, its easy to use interface equipped with Test Button and there is also a Defaults button that resets the parameters to default settings in case something goes wrong. It works on Windows 2000/XP/ME/Vista and perhaps 7. Download the freeware from this link.
Download : Melloware's Placesbar Editor
Hope this will help you in case you will need it.