Sudden modification of desktop display resolution is one of the problems that PC users encounter. There are several reasons for this, like new driver installation, malware attacks or sometimes while uninstalling another OS in multi-boot configuration etc. Also it is not rare that we find someone who claims :
When I shut down and restart, the resolution resets to 600 x 400, instead of the usual 1200 x 900, what to do?
Also if the screen looks distorted or fuzzy, then you may have an incorrect screen resolution size, set for your monitor. A quick recovery from these problems is to save the screen resolution. Luckily there are some freeware that do this in an easy and convenient way without going through the control panel and browsing each feature and here is a short list of them :
ScreenRes :
Useful Feature : You can automatically reset the positions of desktop icons and screen resolution to desired one on every startup.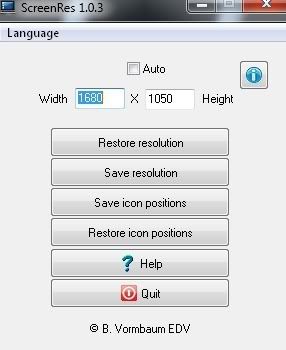 Description : It is a small application that lets you save and restore screen resolution. Not only that you can even save and restore the position of desktop icons. Position of desktop icons may change due to wrong screen resolution or when a new software is installed etc.
When you run ScreenRes for the first time, save your screen resolution by clicking the button 'Save resolution'.
Tick 'Auto' if you want ScreenRes to restore the resolution every time, when it is started.
If you run ScreenRes on Windows start-up the screen resolution will be corrected automatically at system start-up.
Download : http://www.vormbaumsoft.com/
Caroll : (For PC with Multi-users)
Useful Feature : It sets different screen resolutions for different users who use same computer.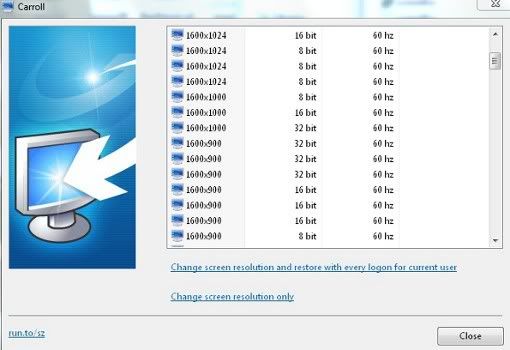 Description : When you share a computer with someone who uses different screen resolution than yours then a tool is needed to save different screen resolutions for different users. In this case a freeware called Caroll has to be installed.
This is a free software and it lets you set different screen resolutions for different users who use same computer. Each user has to set desired screen resolution for themselves and then click 'Change screen resolution and restore with every logon.
Download : http://thesz.diecru.eu/content/carroll.php
If you prefer Command line program to change screen resolution, color depth and refresh then here are some tools.
Display Changer : (For Command-line users)
Useful Feature : Lets you run custom applications/games at a resolution different from the normal resolution and then brings back the normal desktop resolution after quitting the application/game.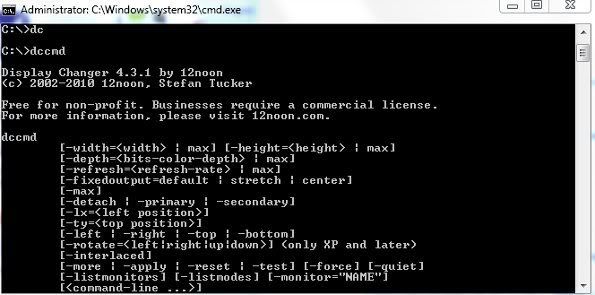 Description : This tool will help you change your desktop (supports multi-monitor) width, height, color depth, and refresh rate temporarily or permanently. Display Changer can also open programs in different screen display resolution. Sometimes when we run games and if our graphic card cannot fully support the current screen resolution then it is possible with Display Changer to run the game in a specific display resolution without going into the settings of game. Once you quit the game, it'll return the desktop to the previous resolution.
For example, if you want to watch a 3D video in a different display resolution then use this command
dc.exe -width=1920 -height=1080 -refresh=24 player.exe C:\Program Files\3D Video Player \3DVideoPlayer.exe
or open Notepad and add the above command line then save it as 3DVideoPlayer.bat, so the batch file will execute 3D Video Player in 1920×1080 resolution with the refresh rate of 24 and when closed, Display Changer will automatically roll backs to the original desktop resolution.
Download : http://www.12noon.com/displaychanger.htm
Qres : (For Command line users)
Useful Feature : Works similar to Display Changer. You can run apps/game at custom resolution and then automatically bring back normal resolution after exiting them.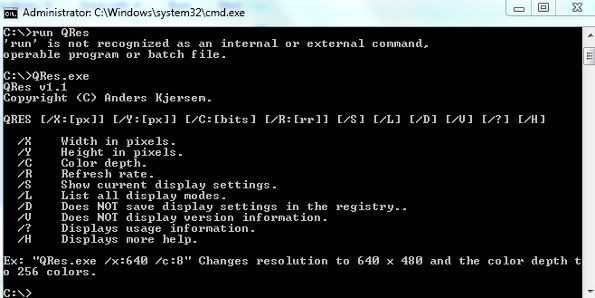 Description : It is a Win32 app written in C/C++. To make things easy, extract QRes to root of your hard drive where Windows is installed. Then go to Run and Type CMD. Launch it with Administrative Rights. Then Type Cd /, hit enter then type QRes.exe and hit enter. This will show all available options.
As the author say : For instance, you can make QRes switch to 800 x 600 @ 256 colors as long as you run a game and switch back to your regular screen mode when it is over.
Download : http://www.home.no/aksoftware/
Many times we face problems because of unauthorized modifications to desktop resolution and the positions of desktop icons. So, before you arrive a situation where your screen resolution can be fixed only with some extra Windows tweaking try one of the above methods or tell us your own experience.
A quick way to find out your Screen Resolution, visit this site