When a pc is equipped with two or three and more hard drives and which are crowded with diverse file formats, then windows explorer can sometime takes time in order to locate a certain searched file via the provided search option. So, now its time to look at Tag2Find and how can help to locate files easily and fast way without errors.
A tag is simply a label or keyword that describes your file for making it easier to find. You will find everything (documents, movies, images, music, etc.) on your desktop by simply using tags. It does not matter where your files are stored on your disk, you will find them anyway. Tagging frees information so to find easily and in fast way documents tag them.
The first time launched the wizard will guide to all necessary steps to configure the software and to create database (Tag info) location, just follow the wizard.  A restart is necessary on windows vista for complete installation. Once windows is booted, a tag2find icon will be seen as part of windows systray.  It also integrates itself to the Windows Explorer, you will find an option to edit a tag in the context menu.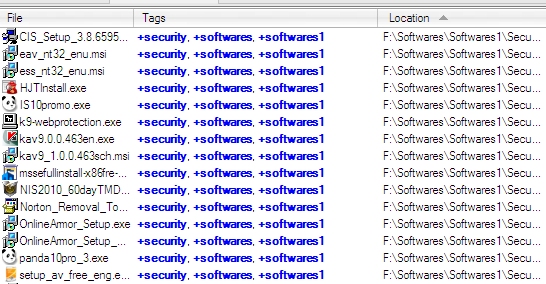 Another sequence of steps is for selecting the files/folders and the extensions you want to tag during the initial setup. Right click on Tag2Find icon and choose new tag browser, this will popup the software main interface. The handy interface and easy use interface has a tabbed interface, click on file then choose add files either from directory or from notifier. If one choose to add from the directory then a new window will pop up offering the list the connected hard drives. So the first step is to choose hard drives or selected files, then another window will come to import all extensions or selected ones. If the second option is chosen then a scan will begin and detailed file extensions will be given so that to exclude non desired one. If one choose tagging a hard drive then another window will be presented that offers some tagging options such to tag:
Based on parent folders
Based on file extension
Based on file metadata
Include already tagged files
Once clicked on finish then tagging will begin and the duration will depend on the amount of files to be tagged. For instance 31.016 files were tagged in 25 minutes. You can add multiple files and it will tag them by default using the Folder name, File name, Meta-data….To add a new tag to a specific file, select that file and then add a new tag by entering the keyword on the bottom of the right-sidebar. Don't forget to click Save, otherwise all changes made will be lost.
It can also be configured to include search results from Recycle Bin, customize the action for double clicking the tray icon, append folders to be watched by the application and receive a notification whenever new files are added or set exclusion folders and extensions for tag2find to keep an eye on. This is done from tag2find option window that can be reached from the tool tab. The application will sit quietly in system tray and you will see a transparent float bar which can be removed  from the context menu or can be closed.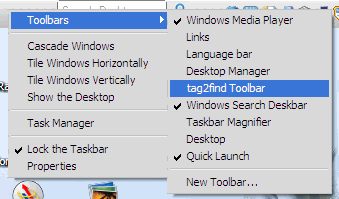 One remarkable feature of this application is that you can search for any file from your windows taskbar. Right-click the Windows taskbar and select Toolbar, from there select tag2find toolbar. Now type -˜software' in this toolbar and you will see all files that have been tagged as -˜software' instantly. The application does a wonderful job and will promptly display all the items sharing the same tag or set of tags.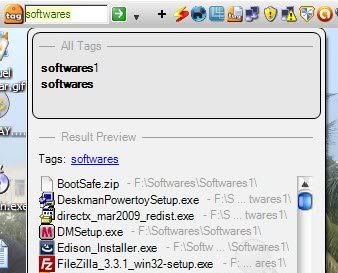 Working with this software does not require great effort from the user as there are plenty of ways to define tags either for a single item or for an entire group so tags will be based on your personal associations. You can drag and drop a file to the floating bar, type in the newly defined tag and agree to the setting or tag elements by using explorer context menu.
Finding items sharing the same tags is almost instantaneous as all there is to the job is to type in the tag and tag2find immediately displays in the balloon all corresponding elements. The options available next allow opening the file in the associated program or opening the location, viewing its details (preview is available in the case of images) or re-tagging them. You don't need to learn the location of the file as once the file is marked tag2find will show it to you, regardless of its place on the disk. So its possible that a user can find the file in drive D instead of drive C because simply didn't saved it in the right drive. This kind of action can happen in daily pc use, so trust tag2find in locating the file.
Tag2find lets you serve you to organize files your  way by creating your own world of information and will help you to find what you need because this is done by Tagging  all kind of files (documents, movies, images, music…) based on your idea. For instance Tag2Find can be the next best thing that can happen for vista tagging capabilities. Tag2find is free so go ahead and download it from the below link