Empty folders (zero byte folders) will never cease to populate Windows hard drive. One of the reason is that Windows creates them as they are needed during various situations. Another source of empty folders are the incomplete uninstallation of programs, also some users tends to create empty folders for their own use such as for screenshots, public, private, photo editing etc, in their user profile directory. Anyway, having empty folders will only confuse users while exploring and keeping them will do no good to users. So, in this article we'll see 2 softwares which will help you in finding and deleting empty folders automatically. There are few more interesting software which does the same and we'll share them in Part 2.
1. Remove Empty Directory (RED): Is a freeware made to search for empty folders. The search location can be configured from a single directory to the complete hard drive and accordingly the scan time varies.
Before starting the scan, visit the Settings tab to tweak some functions. The standard configuration is recommended in order to avoid mistakes. Users can also choose Ignore Hidden Folders because usually folders created by Windows OS are in hidden state unless a recent malware attack populated the hard drive with unwanted hidden folders.
Now I scanned my drive C, the results are in tree view and at the right side, you can see the Icon Description window to know which folders are empty, contains trash, hidden, protected, or locked.  The folders that are marked RED color will be deleted. So now if you think that some of RED color marked folders are important right click on of them and a context menu will pop-up to protect, add to ignore list, open in explorer etc. By default the empty folders will go to the Recycle Bin.
Other Features :
It can delete Folders that contain zero byte (0kb) files.
Integrate RED into Windows Explorer context menu.
A portable version is also available.
Download : RED
2. Fast Empty Folder Finder (FEFF): The new portable version has some improvements such as 'exclusion and ignore' functionality. With the exclusion functionality you can specify the application to skip those folders while searching. You can access the exclusion list by clicking Options > Exclusions in the main menu. This feature works like Scan Location dialog. Any empty folders found in a excluded folder are ignored, however, empty folders within sub folders of that exclusion are not ignored.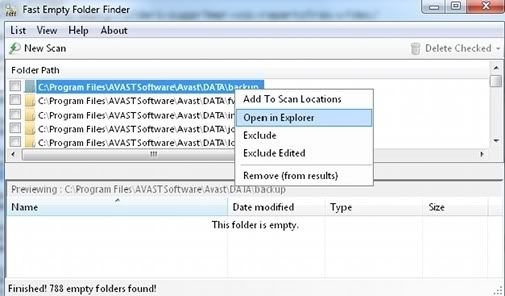 After the scan is finished user can export the list as .feff or .csv, while importing can be done only from .feff file extension. To verify emptiness of a folder, make sure the Explorer Panel is visible. This panel is below the empty folder list and displays the contents of whatever folder is selected in the list. If Folders to be deleted are checked then clicking on Delete Checked will reveal two options from the drop down menu, the first is Recycle (slow), and Delete Permanently (fast).
The software  runs on Windows XP, Vista, and 7. FEFF is available as a 32bit executable only and is optimized for .NET 2.0, .NET 3.0, .NET 3.5, and .NET 4.0.
Download : Fast Empty Folder Finder
Before starting to delete empty folders we recommend users to make a restore point so that easily to revert to a stable Windows State. If we delete the empty folders which are created by Windows, then they will be automatically recreated again. Notice that some empty folders created by drivers are needed and if they are removed by mistake then it can cause stability problems. So, take care while removing empty folders created by drivers.