Few days back we have discussed about free softwares which help you in finding and deleting empty folders automatically. If you didn't read that article, we recommend you to go through it through this link. This article is continuation to that article and here we discuss more about free portable softwares that help you in deleting empty folders.
FMS Empty Folder Remover. This has both freeware and shareware (offers Open Folder Location…). The interface is simple and there is a toolbar which is offers easy access to available options. Click on Open Folder and specify the directory you want to scan for empty directories. The scan is fast. By default, all empty folders are marked for deletion and it is up to user to decide else. You can also export the list HTML, TXT, Excel, XML, SCV by clicking on empty folder
Download : FMS Empty Folder Remover
Empty Folder Nuker. This a small portable software, served by a small interface. It offers shell integration and not many options are there to configure. There is no right click pop-up menu but the list of search can be exported as TXT. The number of empty folders found is shown above the list window.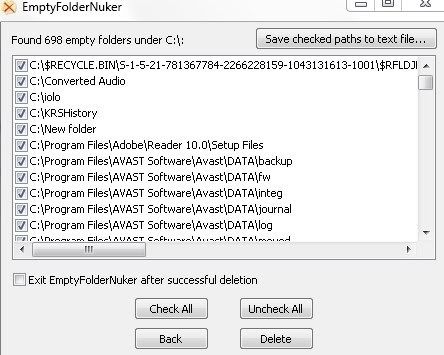 Download : Empty Folder Nuker
Remove Empty Folders: This is also a portable software. The interface is easy to use, will let you select, or type, a folder, and it will then proceed to scan. This lightweight tool scans a source folder and instantly identifies the empty directories within, so will enable you to easily get rid of unwanted directories.
The following options are to be considered :
Test Only checkbox is checked (normal and default): No deletion but the list will be shown
Test Only checkbox unchecked: All the empty folders will be deleted.
After the list fills the text box, you can EDIT the list, SAVE it to disk.
Options are there to change Folder List Font Color and Type.
After a safe test, you can edit the displayed Lines (Delete unwanted ones) and then click the PC icon to delete only displayed empty directories.
Download : Remove Empty Folders
Vanity Remover: This is a small portable software, written in C# and requires .Net Framework 3.5. There are no options to configure, from version 1.5, you can drag and drop a folder onto the executable file and it will open up with that folder as initial path. As initial rule a message will pop-up alerting the user that all empty folders will be deleted which means they are not sent to the Recycle Bin. At the end a small window will inform the number of folders scanned and removed.
Download : Vanity Remover