Just few days back we've introduced few useful softwares developed by Tweaking.com (link here). Today they've released another useful tweaking software called Simple Performance Boost. As the names suggests, it helps you tweak Windows parameters easily so as to get more speed and performance out of your PC.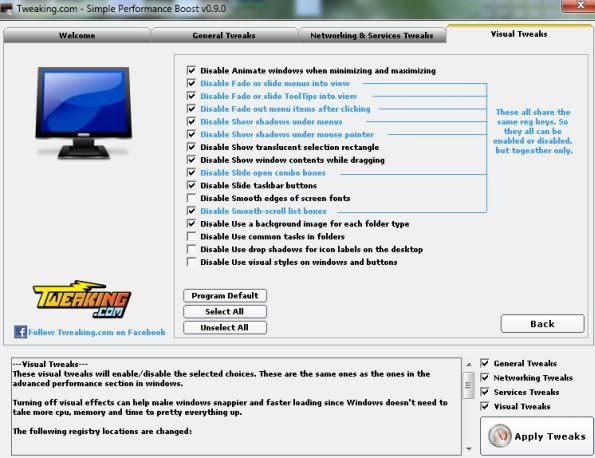 This program installs easily and before showing the software interface a registry backup is made so that we can roll back to previous state easily. The interface is easy to use and all tweaks are organized by categories according to their effect on the system. Hence, we can access those tweaks easily. Some of the tweaks of Simple Performance Boost are already present in Windows 7 but accessing them is not easy. So, let us make it easier and more comprehensible with Simple Performance Boost.
Here is a comprehensive list of the tweaks organized according to their categories.
A)    General Tweaks:
Memory Tweaks – Cuts Down How Often Windows Accesses The Hard Drive
Show Details When Booting or Shutting Down
Remove Compress Old Files From Disk Cleanup
Add Run in Separate Memory Space Check Box to Run Dialog Box
Disable Automatic Restart in The Event of a BSOD (Blue Screen Of Death)
Speed up Shutdown – Auto Kill Hung Programs & Services
Opens 16-bit Apps in a Separate Memory Space
Place Boot Files Optimally on the Hard Drive For Faster Boots
Launch Windows Desktop in a Separate Process
Disable MFT Fragmentation
Modify the Folder Storage Space to 20,000
Turn Off Folder Auto Template Discovery
All Items Have an "Edit With Notepad" on Right-Click Menu
Disable Tracking of Broken Shortcut Links
Keep Positive Entries in DNS Cache For 4 Hours Instead of 24 Hours
B)     Networking Tweaks & Services Tweaks
Keep Remote Desktop/Terminal Server From Disconnecting
Improve Network File Sharing
Disable TCP Timestamps (Can Improve Network Speed On Some Networks)
Show Lan Errors In Network Status Window
Improve File Share Access In Mixed Operating System Environment
Disable Windows Network Auto Tuning
Keep TCP Working When Using Internet Connection Sharing
Search Indexer – Disabled
Help Service – Manual
Windows Media Center Services – Disabled
Remote Registry – Disabled
Windows Image Acquisition (WIA) – Manual
Error Reporting – Disabled
Diagnostic Policy – Disabled
Function Discovery Provider Host – Manual
SDP Discovery – Disabled
C)    Visual tweaks
Disable Animate windows when minimizing and maximizing
Disable Fade or slide menus into view
Disable Fade or slide ToolTips into view
Disable Fade out menu items after clicking
Disable Show shadows under menus
Disable Show shadows under mouse pointer
Disable Show translucent selection rectangle
Disable Show window contents while dragging
Disable Slide open combo boxes
Disable Slide taskbar buttons
Disable Smooth edges of screen fonts
Disable Smooth-scroll list boxes
Disable Use a background image for each folder type
Disable Use common tasks in folders
Disable Use drop shadows for icon labels on the desktop
Disable Use visual styles on windows and buttons
As you will notice in the Visual Tweaks Section that some tweaks are interdependent since they share registry keys. So, in order to avoid mistakes the software will guide you to do the right thing. It will not let you down or mistaken, since each tweak gives you a small and clear summary of the action performed.
This application support Windows XP, 2003, Vista, 7, 2008, even Windows 8! It includes more than 45 tweaks and transformations, going from performance boost to the simple appearance changes. These tweaks if well combined, will make your Windows more stable and faster. Portable version is also available. So, click on this below link and download your free version.
Download : Simple Performance Boost