A friend asked me that he copied photos from its digital Camera (Olympus) but he couldn't find where he copied them. So I suggest him to use a file sorter software and after google search I advised to try the free version of DiskSorter in order to categorize files on his windows vista pro 32 bit and then checking will be easier.
DiskSorter is a free, fast and easy-to-use file classification utility allowing one to classify files in disks, network shares and NAS storage devices, detect files or file categories holding significant amounts of the disk space and perform multiple file management operations such as file copy, move and delete to reclaim wasted disk space. For more power there is the pro and ultimate shareware version.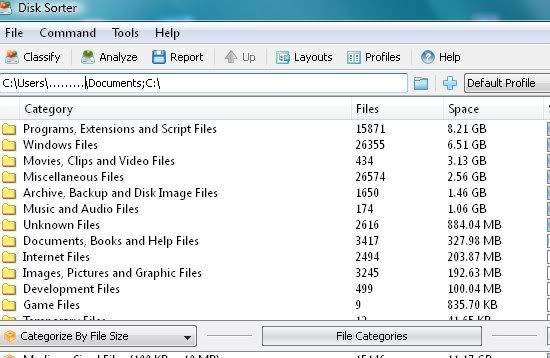 Installation is straightforward and the soft is ready to be used via its well defined easy use interface.  Now click on the command tab and choose start file classification.  One will see a new small window that has already c:\users\Name\Documents ready to be scanned, it is also possible to add/delete other directories. This window allows some configuration such as Exclude, Rules, Options, Advanced. Apart from the Exclude option all others are not included in the free version, but it will be enough to see where the space is going and to use diagnostic approach to locate files or to find ways to remove unneeded files to have more space.  From the tools options one can see easily the Manage Plugins  category but its limited in the free version.  Manage Profiles is handy and can be reached from the Tools tab and can be edited such as adding a new profile or deleting already existed no more necessary for daily use.
Finally after choosing the right profile and clicking on the start classification that is in the command tab  and using the only available (free version) Default File Classification Plugin will start the process which is fast (depends on file sizes). During the file classification process, DiskSorter will display the process dialog showing the total amount of processed files and the amount of processed storage space. At the end a detailed explanation will be given with how much space is taken by the defined files.  The default classification is Hierarchy of file classes and categories sorted by the amount of used storage space. Unfortunately the report (HTML, TXT, CSV) cannot be saved in the free version.
While sorting of your MP3 music, you will see all, that is happening, even content of archives with files (music, photos, videos) that are processed now. Copy, cut, delete or move to another location.
By having this great capability, users can easily find out what are the contents in specific directories, such as what are the largest files (Images, Videos, Documents, Programs, Music, Windows Files) in the folders, file types. This is especially useful so that to be  aware of how hard disk space has been utilized and whether there is further deletion or optimization can be done. To do this will need to analyze the disk. DiskSorter can be reached from the below link.
Download : Disk Sorter